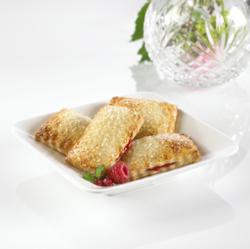 Clients who order these desserts can have them on their menus before year's end to set trends and increase sales
Chicago, IL (PRWEB) May 20, 2011
Chefs across the country looking for a way to revitalize dessert menus and increase sales need look no further than to the culinary team working in the Steven Roberts Original Desserts kitchen in Denver. Each year these chefs conceive and produce a majority of desserts Americans enjoy when they dine out. Today, in conjunction with the National Restaurant Association Show, they unveil 23 new creations that chefs across the country can customize and see on their menu before the end of the year. Focusing on offering unique ingredients, superior taste, speed to market, and scalability, Steven Roberts Original Desserts provides products for quick serve and gourmet restaurants, hotels, and theatres.
Steven Roberts Original Desserts created an Innovation & Development (I&D) Team in 2010 to provide unmatched insight into industry trends. "This year, our I&D Team takes you on a global tour, introduces you to exotic and super fruits, and updates favorite classics," revealed Brian McGuire, President.
"The desserts we're introducing today can be ordered, modified, and scaled to individual client needs," stated McGuire. "Not only is Steven Roberts Original Desserts the industry leader in innovation and development, we are fastest to market with our products and clients who order these desserts can have them on their menus before year's end to set trends and increase sales," McGuire promised.
Desserts debuting today include (photos at http://tinyurl.com/NRAShowDesserts):
Exotic Fruits of the World

Passion Pound Cake—cream cheese and butter pound cake, passion fruit white chocolate mousse, whipped cream, passion sauce
Dragon Fruit Cheesecakes—ginger crumb crust, cream cheese, dragon fruit puree, whipped cream, and dragon sauce
Kiwano Brulee—kiwano custard, burned sugar, sour cream
Prickly Pear Flatbread—butter shortbread, prickly pear jam, mozzarella cheese, pistachios
Chocolate Plantain with Caramel—plantain pineapple bread, macadamia nuts, chocolate ganache, caramel sauce
French Macaroon Cookies—varieties include passion fruit, prickly pear, plantain, dragon fruit, and kiwano
On-Trend Flavors

Whoopie Cookies—varieties include maple walnut with bourbon caramel filling and five-spice chocolate with milk chocolate lime filling
Provence Cheesecake—Lavender crème fraiche cheesecake with apricot compote on a shortbread crust
Pudding of the Gods—spiced chocolate bread pudding with guajillo chile and Mexican cinnamon served with smoked cinnamon ice cream and tamarind gastrique
Pasta a la Vodka—Red Bull® "noodles" tossed in a blood orange-white chocolate martini finished with shaved white chocolate and short breadsticks
Fruit Roll-Up—coconut rice pudding with tropical fruit salsa, green apple leather, finger limes and a yuzu-coconut dip
Healthier Indulgences—Featuring Superfruits

Superfruit Ravioli—antioxidant rich acai berry, raspberry, and cherry filling baked in butter pie dough
Banana Split Cake—banana cake layered with candied cherry mousse and light banana cream topped with Belgian Acticoa chocolate
Mango Fritter—caramelized mangos wrapped in sweet dough flash fried in avocado oil with tangy mango preserves
Pomegranate Pistachio Panna Cotta—fresh natural cream, pomegranate puree and ground pistachio nuts with pistachio cake and pomegranate syrup.
Bluberry Orange Mint Soup—chilled blueberry juice and fresh mint spiked with Grand Marnier
Yogurt Cheesecake—labne/kefir yogurt cheese baked with boba on a toasted almond crust and layered with whipped cream and burnt marshmallow
Whimsical Delights

Pie Bites—individual flaky fruit filled pastry, dipped in chocolate, served on a stick
Chai Tea Shortbread Sandwich—buttery chai shortbread filled with creamy icing and topped with milk chocolate
Coffee & Cookies & Cream—chocolate cookie crust topped with layered mocha mousse and vanilla latte mousse laden with Oreo® cookies, sides decadently coated with a blend of chocolate cookie crumbs and coffee, and finished with a grand dark chocolate ganache
Indulgent Bark—rich chocolate blended with various classic combinations including Oreo®-pretzel; walnut and marshmallow; potato chips with popcorn and honey roasted peanuts; whoppers and non pariels
Mini Bark Poppers—rich chocolate blended with various snack foods such as almond brittle crunch, pretzels, M&M's®, pineapple, and coconut in mini-cupcake size
Steven Roberts Original Desserts develops and produces a broad line of innovative, premium frozen desserts, selling them directly to restaurants, hotels, theaters, and grocery stores. Some of the best-known brands in the United States rely on Steven Roberts Original Desserts. A dedication to research and innovation has won Steven Roberts Original Desserts numerous industry awards for superior service, high quality products, and exceptional new product development. Steven Roberts Original Desserts takes pride in its role as a partner to its clients and continually sets new standards in quality, creativity, and customer service. Founded in 1995, Steven Roberts Original Desserts, LLC, is a privately held, Denver-based company owned by Charles Kosmont and Steven Fabos. Steven Roberts Original Desserts has been designated a certified minority supplier by the Rocky Mountain Minority Supplier Council. For more information, please visit http://www.originaldesserts.com and http://www.originaldesserts.com/news.htm.
Photos: http://tinyurl.com/NRAShowDesserts
Contact:
Brian McGuire
President, Steven Roberts Original Desserts
720-988-3363
Mary Ireland
Ireland Communications
303-882-0900
###