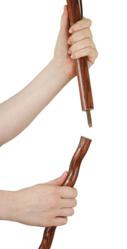 "For true connoisseurs of wood hiking or walking sticks, leaving your favorite one at home when you travel has always been a huge source of frustration," said Warren Owen, Founder and President of Brazos Walking Sticks.
Waco, TX (PRWEB) May 19, 2011
Brazos Walking Sticks announced today the launch of its beautiful wood Traveler's Stick (TM), which breaks into sections, in seconds, from a full 55 inches to a compact 19 inches. Traveling by airplane, in a small car or on a bike with one's favorite, full-size, handcrafted walking staff has been practically impossible, until now. Travelers, geocachers, RVers, scouts, outdoorsmen, outdoorswomen, campers, backpackers, hikers and safari travelers now have a choice over cold metal and brittle plastic.
The new Traveler's Stick offers the same quality, stability and utility of a one-piece stick, yet unscrews into three equal parts for easy transportation. Unassembled, this sectional walking stick will fit easily into an airplane's overhead bin, in a backpack, strapped to a bike, or in the trunk of a car. With its small and discreet size, this staff can be taken virtually anywhere.
"For true connoisseurs of wood hiking or walking sticks, leaving your favorite one at home when you travel has always been a huge source of frustration," said Warren Owen, Founder and President of Brazos Walking Sticks. "We've solved that problem with the Traveler's Stick, not only because it is truly portable, but also because it is fully-functional as an everyday staff. It was challenging, but our hand engineered precision won out."
"This product is a perfect fit for geocachers," comments Tom Phillips of Groundspeak Inc. "Their adventures are taking them all over the world and now they will be able to take their favorite walking stick with them." Groundspeak saw the potential of working with Brazos to redesign the traditional walking stick to better meet the needs of the Geocaching community. The result is the new Brazos Traveler's Stick. And Brazos Walking Sticks is working with Groundspeak to offer a special logoed and trackable stick worldwide. Brazos can also ship free domestically, for $20 anywhere in Canada and inexpensively globally through International Checkout. Want to see a Traveler's Stick first hand? Come to GeoWoodstock IX on July 2, 2011.
In a popular 55-inch assembled size, the oak Traveler's Stick is just the right size for the majority of people looking for a handcrafted, wooden walking stick to use during their global travels. Each Traveler's Stick is also outfitted with a versatile Combination Spike, featuring a metal tip for trails and an interchangeable rubber tip for trekking on manmade surfaces.
Like all of Brazos Walking Sticks' handmade walking sticks and walking canes, the Traveler's Stick is guaranteed for a lifetime, being made in the USA by skilled craftsmen using time-tested woodworking methods and now with precise hand metalworking to ensure a lifetime of service. Customers can personalize each one with their laser engraved name or even company or club logo. Brazos Walking Sticks also offers supple leather and sturdy nylon travel cases designed just for the new Traveler's Stick, personalized with their or your embroidered logo. Customers, companies, associations and retailers can purchase the Traveler's Stick (TM) and travel bags online today.
About Brazos Walking Sticks
Brazos Walking Sticks creates high quality, handcrafted, made in America walking sticks and walking canes from many kinds of beautiful woods, local, regional and exotic. Our staffs, poles and rods are ideal for anything from adventuresome travel to outdoor hiking to healthy neighborhood strolls to rare, one of a kind collector items. Accessories include compasses, thermometers, medallions, spike ferrules and more, which can be customized. For personalization, you can add unique laser engraving. Located in central Texas' Brazos River Valley with a community of craftsmen, for 14 years we been have offering The Quality of American Craftsmanship (TM) with The Feel of Nature (TM) and superior customer service. We prove it with our Lifetime Guarantee. Join us at http://www.brazos-walking-sticks.com.
About Groundspeak
Groundspeak Inc, located in Seattle, Washington, owns and operates Geocaching.com - the global headquarters for Geocaching, a worldwide GPS-based treasure hunting game. Geocaching.com serves over 5 million active participants in over 200 countries and provides access to over 1.3 million active geocache listings, individual member profiles and statistics, tracking code services, mobile platform applications, premium member services and officially licensed merchandise. Groundspeak's mission is to inspire outdoor play through location based technologies and Groundspeak continues to develop tools, including Waymarking.com and Wherigo.com, to help GPS enthusiasts create and share unique adventures in the real world. Learn more at http://www.groundspeak.com.
About International Checkout
Since 2002, International Checkout Inc. has been at the forefront of global e-commerce, providing an integrated solution that includes a full range of services.  Merchants are able to open their sites to the quickly growing world market within a few short hours, accessing the burgeoning overseas buying power. International Checkout is ranked No. 61 on the Inc. 500 list of fastest growing privately held companies. For additional information, please visit http://www.InternationalCheckoutSolutions.com.
###