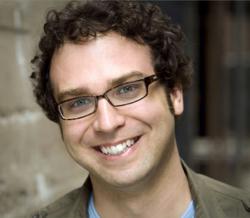 Chicago, IL (PRWEB) May 19, 2011
Chicago native and co-founder of the critically acclaimed weekly "alt" comedy showcase, Chicago Underground Comedy, Tony Sam, is back in town to host a cast of rising Chicago stars at the Secret Big-Time Local Comedy Showcase as part of the Just For Laughs - Chicago Comedy Festival. The show will be held June 14th at the home of Chicago Underground Comedy, The Beat Kitchen, as part of the week long festivities.
The curly haired comedian co-created the long running showcase nearly six years ago in 2005 with fellow comedian Brooke Van Poppelen.
Now living in Los Angeles Sam serves as Editor in Chief/head writer of Jamie Kennedy's humor news site HAHAJK.com. Despite living in Los Angeles, Sam also serves as the executive producer of Chicago Underground Comedy working with fellow show producers, Dan Telfer, and Elizabeth McQuern to keep the show running strong.
The Secret Big-Time Local Comedy Showcase will feature Sam hosting an evening with four of the city's brightest rising comedy stars, Beth Stelling, Sean Flannery, James Fritz, and Candy Lawrence.
Sam says is excited to take the stage that he worked hard make successful. "I love Chicago, and Chicago Underground Comedy. If you see only one comedy show in the city, this is the one it should be," he tells HAHAJK.com.
His fellow producers appear excited to have him home as well. HAHAJK.com spoke to producer, Elizabeth McQuern.
"Tony is a totally unique and hilarious comic voice who creates entire worlds around his characters and perspective, " she says. "He is making his triumphant return from LA for a truly all-star night of Chicago Comedy's best and we're glad he's back!"
While in Los Angeles, Sam has appeared on G4's Attack of the Show, and Fuel TV's Stupidface, and can bee seen in commercials as well. As Editor in Chief of HAHAJK.com he works with Actor/Comedian/Producer, Jamie Kennedy, developing the content for the site. Sam is also currently developing a feature film script with Jamie's production company, JK Entertainment.
Jamie Kennedy has nothing but great things to say about Sam. "Tony is super hilarious, so glad to be working with him," he tells HAHAJK.com.
The Secret Big-Time Local Comedy Showcase will be held at the Beat Kitchen, 2100 West Belmont Avenue Chicago, IL 60618 on June 14th, at 8pm.
###