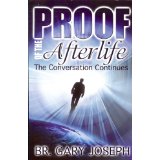 Our whole life is a conversation with God.
Los Angeles, CA (PRWEB) May 19, 2011
A Los Angeles-based Roman Catholic brother has written an account of his "afterlife" experience. Brother Gary Joseph, author of Proof of the Afterlife: The Conversation Continues, is founder of Servants of the Father of Mercy, a private association serving the homeless in America in the Archdiocese of Los Angeles.
"It was an out-of-body experience, like seeing your body down there and being above everything else in the room," writes Brother Gary, recalling his afterlife encounter in September of 2005. That night, an arrhythmia episode caused him to collapse and realize that he was dead. "My heart stopped, it became extremely quiet, and all the energy—an intense electrical tingling sensation—exited out of my hands and feet. Next, in the solitude, I hovered over my body for a brief moment and saw myself, my body, collapsed on the floor," he writes. "I was powerfully aware that I was now in the presence of God the Father Almighty." Later, he lives to "tell the tale."
In his own words, Brother Gary had been "propelled to the Other Side." In the words of his family physician, Brother Gary had "been somewhere very few people ever return from." What sets Brother Gary's reported experience apart from other such accounts is that this was not an isolated event. As the subtitle of his book suggests, Brother Gary has since experienced numerous God-encounters, and visits from the Other Side by family and friends "on a mission to facilitate love, mercy, forgiveness, and reconciliation."
In Proof of the Afterlife, Brother Gary recounts his childhood and family life leading up to his afterlife encounter. His subsequent encounters have given him peace of mind and closure, from which he has learned to "forgive and understand real love."
Hardly someone with a history of exploring the paranormal, Brother Gary was, before training for the Clergy, a successful business consultant for top hotels and airlines as well as an author of many corporate training manuals and business books. Early on, he had earned a Bachelor's of Theology, a Master's in Biblical Studies and done PhD work in Law and Ethics from Duquesne University. Recently, he completed additional studies at St. John's Seminary in Camarillo, California. Nothing could have prepared him for what he was about to learn about himself, his loved ones, and most importantly, "God the Father Almighty."
In 2008, Brother Gary started a new congregation within the Archdiocese of Los Angeles called the Servants of the Father of Mercy. The private congregation's primary mission is caring for the homeless, not unlike the late Mother Teresa's lifelong mission. The Catholic New Service (CNS) of the U.S. Conference of Catholic Bishops recently issued a major story on Brother Gary's new book and mission.
All the proceeds from Proof of the Afterlife go toward serving the homeless in America.
For further information, please visit http://www.proofoftheafterlife.com.
Media contact: Victor Gulotta, Gulotta Communications, Inc.
617-630-9286, victor(at)booktours(dot)com
http://www.booktours.com
###