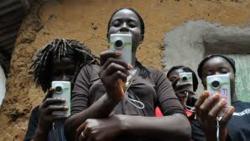 It's been more than two weeks since Sierra Leone's 50th anniversary of independence, and the celebration has really just begun.
San Francisco, CA and Freetown, Sierra Leone (PRWEB) May 19, 2011
April 27th marked Sierra Leone's 50th anniversary of independence, and WeOwnTV is continuing the celebration with the launch of Le Wi Lan Krio, a series of short, upbeat Krio language lessons featured on WeOwnTV.org. Aimed at an English speaking international audience and Sierra Leonean Diaspora living abroad, the lessons are entertaining and instructional. Each one focuses on the Krio language and culture, often taught through the use of Sierra Leonean proverbs and stories. In addition to the new channel, WeOwnTV also launched an online classroom on Facebook, where people can upload their own Krio lessons or chat with others to perfect their Krio.
Le Wi Lan Krio builds on WeOwnTV's year-long production initiative, Picturing Independence: A Positive Revolution, a series of short films that celebrate the Sierra Leone of yesterday and today. The project has already received the honor of being selected as one of the programs officially endorsed by the Sierra Leone 50th Anniversary Committee and WeOwnTV is currently seeking financial assistance to make these short films a reality. To donate, please visit: http://kickstarter.weowntv.org.
"It's been more than two weeks since Sierra Leone's 50th anniversary of independence, and the celebration has really just begun," said Banker White, creative director and founder, WeOwnTV. "Le Wi Lan Krio and the Picturing Independence campaigns are our tribute to the country's golden anniversary and younger generation who lost their childhoods to the war. Both initiatives commemorate a real time of hope for young Sierra Leoneans and the entire WeOwnTV team is incredibly grateful for the groundswell of support we have received to date."
The WeOwnTV Backstory
WeOwnTV is a continuation of the award winning documentary film, Sierra Leone's Refugee All Stars, that chronicled a group of six Sierra Leonean musicians who came together to form a band while living in a refugee camp in Guinea. The film saw the band realize the dream of recording their first studio album, resulting in an international musical career that continues on today. Having his life changed by the opportunity to share his own story, the youngest band member Alhaji Jeffrey "Black Nature" Kamara joined forces with the film's co-creators to form WeOwnTV two years ago.
WeOwnTV remains dedicated to the development and discovery of the young generation's "voice" in Sierra Leone through ongoing film education, equipment, editing and distribution support. Through the recent launch of the WeOwnTV Media Center in Freetown, Sierra Leone, youth and young adult program participants are now enjoying sustained careers in film and media production. WeOwnTV's In Focus is a compelling hour of news, culture and creative media produced for the Sierra Leone Broadcasting Corporation (SLBC), and the group's works are currently being screened at film festivals around the world.
About WeOwnTV
WeOwnTV is a collaborative media education project for disenfranchised youth and young adults that promotes self-expression as a way to explore our shared humanity and build a foundation for the future. Focusing on community engagement, the WeOwnTV curriculum balances intensive film production and computer skills training with classes on storytelling. Ongoing mentorship along with technical assistance, multi-channel distribution and the promotion of finished work enables young adults to share their stories and ideas with the world. For more information, visit http://www.weowntv.org or find us on Facebook and Twitter.
###