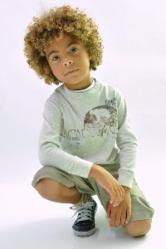 Parents don't realize that their children have a shot at acting in Hollywood no matter where they live in the United States. It's an exciting time to be involved in the entertainment industry
(PRWEB) May 19, 2011
Another young talented child from Celebrity Actors Camp has landed a role in a major Hollywood film and this time the young actor is was only six years old. West Delarosa and his parents were thrilled and delighted to learn that West would soon be filming scenes for a studio film especially only after auditioning for a few local commercials and television shows before West was cast in Renee a film that he will co-star in along side Corbin Bleu http://www.corbinbleu.com/site/about.php and Chad Michael Murray http://www.imdb.com/name/nm0614877.
Like so many other children, teens and young adults West Delarosa and his parents had no idea what to expect after attending Celebrity Actors Camp http://celebrityactorscamp.com/ which was founded by successful Hollywood actors Phil Lewis and Adrian R'Mante. At first West's parents enrolled six year old West in the camp thinking it would be good to help their son build character and encourage him to be less shy. As it turns out, West had a wonderful experience while Celebrity Actors Camp was in Orlando and learned enough about acting to be spotted by a local agent and executive director of Urban Models in Orlando. Jai Saint from Urban Models Orlando http://www.urbanmodelsinc.com/ attended the Celebrity Actors Camp showcase in Orlando and signed West Delarosa to his agency on the spot. Through Urban Models local efforts and Celebrity Actors Camp Hollywood connections West Delarosa was introduced to the casting agent and producers of the film Renee starring Corbin Bleu and Chad Michael Murray and West Delarosa was added to the cast which mostly filmed in Orlando, Florida.
"I can't begin to tell you how many parents contact me with gratitude and appreciation after learning that their son or daughter has just been cast in a Hollywood film or television show," says Celebrity Actors Camp, Adrian R'Mante. "Parents don't realize that their children have a shot at acting in Hollywood no matter where they live in the United States. It's an exciting time to be involved in the entertainment industry and you don't have to live in Hollywood to be a star."
Celebrity Actors Camp visits cities throughout the United States to fulfill the growing demand from children, young teens and parents who are looking for an opportunity to train with successful actors from Hollywood. Children and teenagers can come to Los Angeles to enroll in Celebrity Actors Summer Camp or they can look to see if Celebrity Actors Camp may be coming to a city in their state by visiting http://celebrityactorscamp.com/.
Celebrity Actors Camp provides sincere opportunities for young actors to get a head start on their lives by helping them develop leadership and teamwork skills, self-confidence and the ability to earn income all while having fun learning how to act. Celebrity Actors Camp travels to various cities with top actors from Disney Channel and Nickelodeon shows including Suite Life on Deck, Disney 365, Drake & Josh and Big Time Rush. These actors have spent years in the entertainment industry and they certainly know how to act but they also know how to manage the business side of entertainment as well including smart auditions.
###