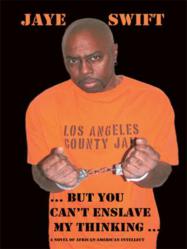 Los Angeles, CA (PRWEB) May 24, 2011
Every generation has its philosophers. The Beat generation had Kerouac and Burroughs. The Baby Boomers had Morrison and Wolfe. Now, the Hip Hop generation has Jaye Swift, who brings his unique brand of philosophy to the world in his new book But You Can't Enslave My Thinking… (published by Trafford Publishing).
In But You Can't Enslave My Thinking… Swift combines history, philosophy and politics to mix up a stew of thought, introspection and insight. His unique take on current and past events will challenge readers' preconceived notions of the world as they know it.
While But You Can't Enslave My Thinking… speaks directly to African Americans, its greater message is directed at all Americans. Swift summons readers to look beyond what they've been told, see beyond the veneer of complacency and venture into the wider world of the unvarnished truth.
By addressing topics such as Colonialism, slavery, the Civil Rights Movement, the War on Drugs and even Hip Hop music itself, But You Can't Enslave My Thinking… seeks out the truth behind the lies. It directly challenges those who have sought to make the world complacent and those who have sought to be complacent. It stirs in all readers the urge to stand up, remove their blinders and leap boldly into the light.
By drawing on Swift's experience in music and life, But You Can't Enslave My Thinking… breaks down the events of the last several hundred years that have shaped the modern world as we know it. It calls on African Americans to stand up and be counted for, not as 3/5 of a man, but as a whole community acting in its own true best interest.
But You Can't Enslave My Thinking… is poised to change the outlook and world view of anyone who reads it.
About the Author
Jaye Swift is a musician slash political rapper, who has sold over 40,000 CD's on the streets by himself. His music has reached 17 foreign countries with his enthusiastic sales technique. His name has been recognized by some of the greatest in hip hop music today, and is revered by the hip hop community.
Jaye Swift attended Job Corps receiving a certificate in electrical house wiring, then went on to attend Banking School, after receiving a certificate he attended Bronx Community College, while attending Jr. R.O.T.C. He also received a diploma from the Manhattan School of Printing because these schools and others like these didn't quench his thirst for African American history, the way he wanted it to; he carried out his own research and uncovered amazing facts, and events that are key elements in developing the psyche of the young African American mind. He discovered so many (enough to fill libraries) that he had to share his new found treasures with his comrades.
His first book is not urban fiction, perpetuating the stereotype or ignorance that plagues today's black youth. His first book is designed to heal; it's designed to teach, to combat the Willie Lynch syndrome, to bring forth a new found attitude about being born an African American.
Trafford Publishing was the first company in the world to offer an "on-demand publishing service," and has led the independent publishing revolution since its establishment in 1995. For more information, visit http://www.trafford.com.
# # #