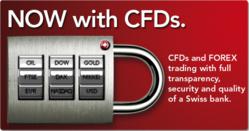 Our clients can now enter new financial asset classes through one trading platform and trade currencies, bullions, major stock indices and commodities with more commodities and equities in the pipeline
(PRWEB) May 20, 2011
Further to the recent acquisition of the Securities Dealer License, MIG BANK is proud to announce that CFDs trading is now available to all of their clients.
Hisham Mansour, CEO of MIG BANK, was quoted in response to the announcement: "As an increasing number of our clients are looking for diversification of their investment portfolios, and as Contracts For Differences (CFDs) are becoming increasingly popular with investors, we have decided to address this in our product portfolio."
Mr. Mansour goes on to explain: "Our clients can now enter new financial asset classes through one trading platform and trade currencies, bullions, major stock indices and commodities with more commodities and equities in the pipeline".
Asked on which indices are available to clients, Mr. Mansour went onto clarify: "We now offer our clients CFDs on the DOW, S&P 500, Nasdaq 100, Russell 2000, AEX, CAC, FTSE 100, FTS/MIB, IBEX 35, SMI, DAX, Nikkei 225 as well as CFD on major commodities such as US Crude Oil, Natural Gas and Heating Oil."
"Just like our offering in Forex trading, our fully transparent dealing model will apply to CFDs trading as we are committed to continually raising the standards for the entire industry".
To learn more about the new CFD offerings from MIG BANK, click here to visit their website http://www.migbank.com and open a free demo account to try their Forex and CFDs offerings.
###