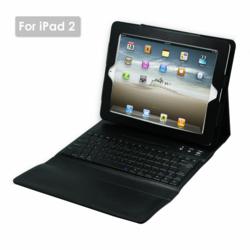 As well as fitting the Toccata 2 and Rubata 2 to the more streamlined iPad 2 form factor, we listened to user feedback to help us further redesign these cases to meet our customers' needs
Frankfort, MI (PRWEB) May 20, 2011
PADACS is an innovative company that specializes in the design and development of accessories for the iPad, iPad 2 and iPhone 4. PADACS products are available throughout the U.S., Canada and Australia.
First launched last year for Apple's original iPad, the Toccata and Rubata keyboard cases have proved hugely popular, providing a conveniently-sized physical keyboard for the iPad inside attractive cases.
The PADACS Toccata 2 Bluetooth Keyboard Case contains a 9.2 x 5.3 inch QWERTY silicone keyboard that is large enough to type on comfortably without adding to the iPad case size. Charged by an included USB cable, the Lithium battery-powered keyboard runs for as long as 45 hours.
The Toccata 2 has been redesigned to hold the 33 per cent slimmer iPad 2, making the entire Toccata 2 case both thinner and sleeker. Other enhancements include:

Keyboard controls to adjust the iPad screen brightness
New keys including a right 'shift' key and a 'Photo Frame' button for the iPad
A combined 'Backspace' and 'Delete' key
Addition of '.com' and dedicated @ key
A sturdy side pin connector for charging.
The PADACS Rubata 2 iPad Keyboard Case provides a premium cover with a built-in hard plastic shell Bluetooth keyboard with special iPad keys. Having undergone a total transformation, the Rubata 2 Bluetooth Keyboard Case is now made from synthetic leather and has a redesigned hard shell keyboard that extends iPad 2 functionality with enhancements including:
Keyboard controls to adjust the iPad screen brightness
More intuitive Bluetooth connectivity controls now located on the keyboard
A new On/Off button that replaces the previous On/Off switch
Addition of '.com' key and a larger 'Delete' key
A sturdy side pin connector for charging.
Pricing for the new-look PADACS Bluetooth Keyboard Cases remains unchanged at US$59.95 for the Toccata 2 and US$79.95 for the Rubata 2.
About PADACS
PADACS is an international brand offering quality accessories for the Apple iPad, iPhone and other mobile devices. Established by technology entrepreneur Raaj Menon, PADACS provides a range of innovative, stylish and affordable accessories from http://www.padacs.com.
For media assistance, email your request to sales(at)padacs(dot)com.
###