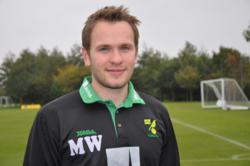 Russell was getting such good results using CNP supplements that he suggested the rest of the team try them
(PRWEB UK) 20 May 2011
Norwich City FC has had a fantastic season. Ever since the board appointed Paul Lambert as manager the team has never looked back – he and his backroom team have propelled the Canaries ever upwards for back to back promotion - from the depths of Division One to the Premiership next season.
Norwich's breathtaking achievement has been all the more remarkable for the spate of late goals the team has scored to secure their promotion. 12 goals in stoppage time with a total of 15 goals after the 85th minute.
Fitness coach Mike Watts turned to CNP Professional, a leading supplier of sports supplements, for supplements and advice, to help the players through the long campaign. Defender Russell Martin, who was runner up for player of the season and who played every minute of every game this season, had been using CNP supplements for some time.
"Russell was getting such good results using CNP supplements that he suggested to me that the rest of the team should try them," says Mike Watts. "I approached CNP and they have been great this season, offering all support and advice we needed."
Team members now use a selection of CNP products including Pro Recover, Pro MR and Pro Energy bars and gels. Pro Recover, a post workout recovery drink that is blend of fast acting carbohydrates and proteins that aid muscle repair and growth, has been especially helpful in the Norwich campaign.
"Pro Recover has given us the ability the train more intensely," explains Watts. "Because it helps the body recover quickly it means we have been able to up the training levels between matches. This has resulted in an increase in fitness which has certainly paid off as shown by all the late goals. The lads have been able to play for the whole 90 minutes and beyond, they haven't eased up at all and have got the results to back up their performance."
CNP Professional is one of the UK's leading sports nutrition specialist companies. For more information visit http://www.cnpprofessional.co.uk, or call +44 (0) 161 368 0942 for sports nutrition advice and +44 (0) 161 368 3850 for sales.
Norwich City late goals.doc – May 11
Press enquiries: Toni Turner or Alison Haynes at The Publicity Works
Tel: +44 (0) 1263 761000 Email: cnp(at)publicityworks(dot)biz
For more news about CNP Professional visit the press office at http://www.publicityworks.biz
Paul Riley, Marketing Manager, CNP Professional: +44 (0)161 368 3850
Photography is available in a choice of formats on request from cnp(at)publicityworks(dot)biz
Notes for editors
CNP Professional is a leading supplier of sports nutrition supplements including protein shakes, protein bars, creatine supplements, meal replacements, mass gainers, weight loss supplements and post work out shakes, all designed for the ultimate in sports nutrition.
Kerry Kayes, the founder of CNP Professional, is a former national bodybuilding champion. He has been involved in sports nutrition for many years and his dietary expertise has established him as 'the man in the know' to sportspeople worldwide. He advises athletes as varied as premier league footballers, rugby clubs, triathletes, round the world yachting teams, runners, boxers, cyclists and motor sports teams.
CNP Professional supplements are carefully formulated to ensure that the body is able to make best use of the nutrients. Unlike many nutritional supplements, CNP Professional's products are easy to drink.
There are several articles explaining protein nutrition supplements on the CNP website - go to the home page and click on 'nutrition' under the articles section.
# # #