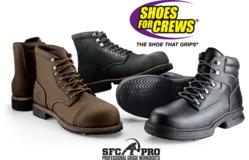 Our work boot line is designed specifically to reduce slip and fall injuries common to any slick, indoor surface.
West Palm Beach, FL (PRWEB) May 27, 2011
Shoes for Crews, LLC, the global leader in slip-resistant footwear, has announced plans to launch a series of new initiatives to help reduce slip and fall injuries within the Industrial Community.
To this end, SFC is launching their new line of professional grade work boots: "SFC Pro". Premium leathers, superior construction and timeless style help set these safety boots apart from other brands.
But what truly separates this new line from others is SFC's new "V-Grip"™ outsole, where independent lab tests have shown that they've actually improved upon their industry-leading slip-resistance. This patent-pending formula has also shown superior performance in cold extremes, while increasing the abrasion factor for better durability.
A new Catalog hitting in early June, appropriately entitled "Industrial Grade Slip Resistance", will showcase the "SFC Pro" line, along with their deep assortment of other styles designed to fit the unique needs within the Industrial Community. Every style will be outfitted with their top-rated, slip-resistant outsole.
SFC will continue to leverage all of their sales channels, including their Website, Email and an expanded Sales Team of experts dedicated to serving the interests the many Industrial companies in need of reducing their exposure to slip and fall injuries.
"Our work boot line is designed specifically to reduce slip and fall injuries common to any slick, indoor surface. We're not competing with other brands that work fine in outdoor construction, rather we want to let this market know that there is a much better safety footwear alternative for use inside of their facility." said Matthew Smith, CEO of Shoes For Crews, LLC.
To date, SFC has done well in differentiating themselves by focusing on their strength: preventing accidents within slippery, indoor environments. The new SFC Pro™ line will certainly help strengthen their industry-leading position.
About Shoes For Crews
Established in 1984, Shoes For Crews has served the needs of the Industrial Community with their top-rated, patented slip-resistance for over 25 years. Their Safety Program comes at No Cost to the Employer, and every pair is delivered with guaranteed comfort and durability –backed by a best-in-class 60 Day "Wear and Compare" Guarantee and Free Exchange policy.
To learn more about Shoes for Crews slip-resistant footwear, please call 1-877-No-Slips (1-877-667-5477) or visit their website at http://www.shoesforcrews.com.
###