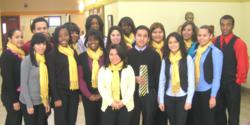 Takoma Park, MD (PRWEB) May 19, 2011
When they assemble in their cap and gowns on June 2nd, the graduating seniors of Don Bosco Cristo Rey are going to have a lot to celebrate.
Not only will these 70 young adults have satisfied a rigorous high-school curriculum, earned significant experience working in the local business community, and paid for a portion of their own education through their dedicated labors, they will also have defied the odds against them; 100% of this first graduating class received acceptance letters to college. An impressive statistic on any commencement day, but certainly on one that features a graduating class, more than 60% of which is comprised of students who will represent the first generation in their families to attend college. Nothing could more faithfully embody the school's 2010-2011 theme: "Work for the best; don't settle for less!"
The 2011 graduating class of Don Bosco Cristo Rey is full of educational pioneers; the school didn't even exist 5 years ago. And at that time, very few of the members of this class – with a composition of 57% female, 64% Hispanic, 34% Black, and universally challenged economically – would have appeared on anyone's "most like to succeed" list. But succeed they did, and well.
Every student participates in the Corporate Work Study Program where they gain professional work experience and earn money to pay for a portion of their education. One of the corporate work-study sponsors, Russette Samuel said, "I'll never hire a temp again." Lou Boland, of Boland, Inc. said, "These kids are business leaders of tomorrow, proving themselves today."
Opened in August 2007, and located in Takoma Park, MD, Don Bosco Cristo Rey High School is the newest high school in the Archdiocese of Washington, and was designed for students in the greater Washington area who dream of going to college but have very limited financial resources. In the tradition of the Salesians of Don Bosco, an order of priests and brothers who have been educating youth since 1859, Don Bosco Cristo Rey High School emphasizes the importance of Faith, Family, Future, and Fun in education.
For more information on the first graduating class of Don Bosco Cristo Rey, contact Claire Wyrsch, Director of Communications, 301-891-4750.
Best Bark Media is a client-centered marketing media company powered by decades of experience and well-established networks.
Media Contact: Janice Ockershausen, Best Bark Media 1200 29th Street NW, Suite B-100 Washington, DC 20007. 202-342-0002. BestBarkMedia.com
###