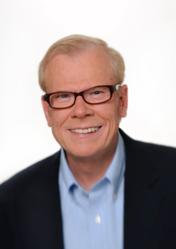 KnowledgeWorks has had wonderful success over the last decade with Chad at the helm, and we are fortunate to have him stay on board in this new role.
Cincinnati, OH (PRWEB) May 19, 2011
Chad P. Wick, the founding chief executive officer of KnowledgeWorks who organized and led the organization to a position of state and national prominence, will become President Emeritus on June 30, KnowledgeWorks' board of directors announced today.
The board named Brian Ross, who became president in September, as Wick's successor. On July 1, Ross will become president and chief executive officer of KnowledgeWorks and help lead the organization's rapid expansion of its innovative high school approaches nationwide.
Wick has been a leading national voice, calling for education to move away from its industrial-age model to an environment that prepares learners to succeed in a global environment. In the coming years as President Emeritus, Wick will play a national leadership role in furthering KnowledgeWorks' mission to provide new and bold solutions to America's education crisis. Wick will remain a member of the KnowledgeWorks board of directors.
Richard W. Riley, KnowledgeWorks board member and former U.S. Secretary of Education, has called Wick "one of the outstanding education leaders" in the United States.
"Because of Chad's guidance, KnowledgeWorks has become known for education innovation. It does the hard work across the education, political and business spectrum needed to affect positive change," Riley said.
Former Ohio Governor Bob Taft praised Wick for his partnership on education initiatives during Taft's term.
"Chad's leadership on education issues was instrumental while I was governor and helped me immensely in our efforts to ensure a great education for all Ohio students; from pre-school all the way to college," Taft said. "Together we got the Bill & Melinda Gates Foundation to make major investments in Ohio, a relationship that endures to this day. I wish Chad all the best in his new role with KnowledgeWorks."
Former Ohio Governor Ted Strickland praised Wick's leadership, pointing out Wick's passion for seeing that all children have access to a quality education.
"No one is more committed to the success of every Ohio child than Chad," Strickland said. "He has been a great leader on Ohio education issues and I wish him every success in his new role at KnowledgeWorks Foundation. My hope is that he will continue to provide his leadership not only to Ohio but nationally as well."
Through its high school subsidiaries, New Tech Network and Ed Works, and its cradle-to-career initiative, Strive Network, KnowledgeWorks has incubated innovative models on the ground to lead this transformation.
Board Chairman Joseph P. Tomain, Dean Emeritus and the Wilbert and Helen Ziegler Professor of Law at the University of Cincinnati, called Wick a "visionary," and praised his leadership.
"KnowledgeWorks has had wonderful success over the last decade with Chad at the helm, and we are fortunate to have him stay on board in this new role," Tomain said. "We are deeply grateful for his vision and creativity in making KnowledgeWorks a significant player in helping to transform education in the United States from a world of schooling to a world of learning, where students are able to apply real-world experiences and develop critical thinking skills as they learn."
Tomain said the board and Wick carefully executed a succession plan over the past year, promoting Ross to lead KnowledgeWorks and help its subsidiaries expand their work.
Wick said the appointment of Ross will help KnowledgeWorks achieve its longer-term goals.
"One of the great outcomes of a succession plan is when a CEO feels confident that the organization will clearly benefit from the new leadership," Wick said. "Throughout the past year, Brian has demonstrated a strong understanding of how to help KnowledgeWorks evolve to function as a social enterprise and create the kind of education environments that can prepare our students for the future."
KnowledgeWorks has helped develop more than 80 high schools in 21 states through its New Tech Network and EdWorks subsidiaries. Its two other subsidiaries are Strive and Ohio Education Matters.
Strive offers a cradle-to-career strategy for bringing all of a community's resources to bear on solving its most pressing education issues. Ohio Education Matters helps transform education in Ohio by conducting research, advocacy, engagement and policy development that inspires others to make the system changes needed today to prepare Ohio's children for the future.
KnowledgeWorks' student-focused approach to learning evolved from its work in Ohio, where it managed one of the nation's most ambitious high school reform efforts with the Ohio High School Transformation Initiative and the development of Early College High Schools.
The effort had a positive impact on more than 50,000 students and trained more than 2,000 teachers in Ohio's most challenging school districts. School structure, teacher recruitment and support, curriculum, assessment, community involvement -- all were built around students.
The EdWorks team has launched more than 90 high schools and has more than 40 start-up schools in process, as well as turnaround schools and Early College High Schools in Detroit, Baltimore, Tennessee, Washington and New York.
In March 2009, KnowledgeWorks acquired Napa, California-based New Tech Network, which works with school districts and communities nationwide to implement its transformative approach to public high schools nationwide. New Tech Network high schools are marked by a collaborative, project-based instructional approach designed to help students succeed in life, college and the careers of the global economy.
Since then, KnowledgeWorks has expanded the New Tech Network from 39 high schools in nine states to 62 public high schools in 14 states, making New Tech one of the fastest-growing approaches to transforming high school education in the United States. More than 20 New Tech Network High Schools are expected to open this fall.
KnowledgeWorks is bringing the future of learning to America's high schools and creating widespread, lasting change in the communities and states we serve. Our portfolio of high school approaches includes New Tech Network high schools, EdWorks high school redesign, Science, Technology, Engineering and Math (STEM) and Early College High Schools. Our Strive subsidiary offers a cradle-to-career strategy for bringing all of a community's resources to bear on solving its most pressing education issues.
# # #