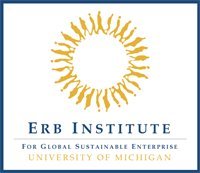 Although creative thinking in the classroom is essential for scoring high marks, being able to transfer that thinking into solutions to address real-world problems is absolutely critical.
Ann Arbor, MI (PRWEB) May 24, 2011
Students at the Erb Institute for Global Sustainable Enterprise, a joint MBA/MS program at the University of Michigan, are taking the lead in bringing new and unique solutions to sustainability problems around the world. Over the past month, Erb students have won top awards at leading local, national and global business plan competitions, while others have launched successful ventures focused on solving big challenges such as access to clean water in the developing world.
Sustainability is emerging as a key theme in more and more business plan competitions, and as part of the decision making process for venture capitalists and other investors attuned to the social impact of their portfolio companies and investments. Against that backdrop, Erb Institute students stand in strong relief as leaders in the kind of innovative, creative thinking that aims to solve global sustainability challenges through business solutions.
Erb Institute student business plans captured awards at competitions including:
Rice University Business Plan Competition—The ReGenerate team, including Erb students Paul Davis and Hunt Briggs, scored a major win at the prestigious Rice contest, which is the world's largest and richest (in terms of prizes awarded). From a field of 42 competing teams, Re-Generate won the $100,000 Waste Management "Think Green" technology prize for a patent-pending Compact Organic Waste System (COWS).
The system, which the team envisions would be installed at consumer-friendly areas with high volumes of organic waste such as supermarkets, is both simple and revolutionary. Drawing on the principles familiar to the average backyard composter, COWS combines anaerobic digestion and aerobic composting to transform food waste and other organic material into hot water and compost. ReGenerate also was a semi-finalist in 2011 Walmart Better Living Business Plan Challenge.
International Impact Investing Challenge—MBA/MS students Laura Frey, Colm Fay, Amrita Vijay Kumar and MBA candidate Andrew Merill of the RE:ViVE India team were one of only 12 MBA groups asked to present at this invitation-only competition for ideas on new investment vehicles with a sustainable impact and attractiveness to institutional investors.
RE:ViVE iNDiA walked away with the prestigious $10,000 JP Morgan Emerging Market Prize. The team's concept is a pioneering reinsurance fund that aims to pool and diversify micro health insurance provider risk that is too large for individual exposure, allowing micro health insurance to reach scale and encourage new entrants.
Dow Sustainability Innovation Student Challenge—Teams involving Erb students swept the University of Michigan segment of this international challenge for innovative research and thinking that seeks to address some of the greatest challenges facing the world, such as global hunger, access to clean water and developing renewable energy sources.
Three Erb teams went on to win the top prizes awarded at the challenge. One of the winning teams was, Impact Everyday, a third-party credit rewards program that enables cardholders to invest their reward points or airline miles to in clean energy projects. Erb team members include MBA/MS students Adam Carver and Rachana Patel. The other two winning teams were the ReGenerate team and SmartEnergy, a turnkey solution for financing and implementing energy performance retrofits in municipal facilities. Erb team members include MBA/MS students Graham Brown, Mike Elchinger and Ryan Flynn.
Impact Everyday and SmartEnergy also captured prizes at the Erb DTE Smart Energy Challenge.
In addition, student ventures such as Wello are capturing the attention of potential investors and business plan judges across the US and around the world. Wello, anchored by 2011 MBA/MS graudate Cynthia Koenig, has created an innovative, hand-pushed drum called WaterWheel to hold clean water that replaces the traditional, time-and labor-intensive process of collecting and carrying water in developing areas such as rural India. Collecting water in this new way promises to ease the burden on women and children, who by and large collect water for their families on a daily basis, and who often walk miles to collect water form clean sources.
Among Wello's accolades is a $10,000 Global health Prize at the Global Social Entrepreneurship Competition at the University of Washington.
"Although creative thinking in the classroom is essential for scoring high marks, being able to transfer that thinking into solutions to address real-world problems is absolutely critical," said Rick Bunch, managing director of the Erb Institute for Global Sustainable Enterprise. "Providing an environment that fosters innovation toward more sustainable business strategies and practices is core to the Erb Institute's mission, and we're pleased that our students' ingenuity is being recognized through business plan prizes and investors' attention."
About the Frederick A. and Barbara M. Erb Institute for Global Sustainable Enterprise:
Created in 1996, the Erb Institute for Global Sustainable Enterprise is a 50-50 partnership between the School of Natural Resources and Environment and the Stephen M. Ross School of Business at the University of Michigan. The Institute fosters professional education, public outreach and scientific scholarship supportive of the transition to sustainability – that is, meeting the fundamental needs of a growing human population in an equitable manner within the means of nature. Utilizing a collaborative approach, the Institute helps business, government and civil society organizations to achieve meaningful progress toward sustainability. Its mission is to be a premier source of knowledge and leadership for the achievement of environmentally, economically and socially sustainable development and enterprise. For more information, visit http://www.erb.umich.edu.
###