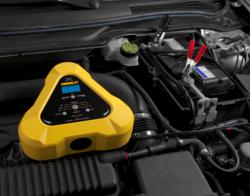 CHARGE IT! 4500 Series is your go-to battery service tool
Lenexa, KS (PRWEB) May 24, 2011
With CHARGE IT! 4500 Series Battery Chargers, everything in your garage can be kept charged and ready for use. With multiple charge rates and the ability to properly charge many battery types, CHARGE IT! is your go-to battery service tool for everything from motorcycles and personal watercraft to cars, trucks, SUVs and more. Big or small, summer or winter, and no matter what type of lead acid battery it utilizes.
4500 Series chargers from CHARGE IT! http://www.cloreautomotive.com/4500_Series are fully automatic, so batteries receive a consistent, beneficial charge every time, while freeing you for other tasks. Each charger features a bright, digital display and is simple to set up for each charging/maintenance application. The operator simply selects battery type and desired charge rate, and the maintainer begins the automatic charging process. It reports progress throughout the process and turns off automatically when the battery reaches full charge.
CHARGE IT! 4500 Series chargers are compatible with a wide variety of battery types and sizes, including Conventional, Maintenance Free, AGM, Gel Cell, Deep Cycle and Marine batteries. With the increasing use of non-traditional starting batteries in today's vehicles, it is important for technicians and consumers to have a battery charger that can properly charge and maintain a variety of battery types.
Three models are available: Model No. 4506; Model No. 4512; and Model No. 4520. Each features smart clamp technology, which protects against reverse connections and eliminates arcing by preventing the charger from outputting current until a proper battery connection has been made. Additionally, the chargers feature a soft start mode for beneficial charging of deeply discharged batteries and the ability to detect damaged batteries to avoid unsafe charging conditions.
For extended charging situations or charging the small batteries found in power sport and lawn and garden applications, a 2A mode is available on each model.
CHARGE IT! 4500 Series battery chargers charge batteries quickly and beneficially. CHARGE IT! 4500 Series battery chargers are available from a wide variety of auto parts stores, retailers and websites throughout North America. They are warranted against defects in materials and workmanship for one year from the date of purchase and are eligible for retail exchange in the event that warranty is needed.
For more information about the CHARGE IT! 4500 Series Battery Chargers, please call 800-328-2921 or visit http://www.cloreautomotive.com.
About Clore Automotive
Clore Automotive is a leader in the design, development and manufacture of automotive service equipment for professionals and consumers, including jump starters, battery chargers, power inverters, air conditioning service equipment and diagnostics, cooling system service equipment and automatic transmission fluid exchange equipment. More information can be found at http://www.cloreautomotive.com.
###