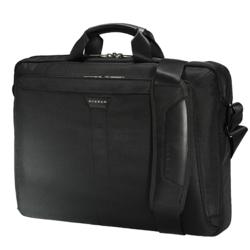 This is one of the only bags that fits 18.4" laptops that looked very professional
Irvine, CA (PRWEB) May 31, 2011
Everki, trusted manufacturer of high-quality laptop backpacks, briefcases, messenger bags, camera bags, and laptop travel solutions, is pleased to announce the release of its most versatile laptop bag to date. With its Lunar Laptop Briefcase, Everki continues its tradition of creating laptop-oriented bags that optimize space while retaining a discrete and professional look.
Each one of Everki's products features a sophisticated-looking exterior that opens to reveal an interior outfitted for complete functionality and practicality. The Lunar is exactly that. "This is one of the only bags that fits 18.4" laptops that looked very professional, is of great quality, and didn't cost an arm and a leg," reports one satisfied customer. "Whatever I carry (my laptop) in has to look sharp and professional and this bag has both of those in spades."
The Lunar Laptop Briefcase comes in both 15.6" and 18.4" formats. Everki manufactures the Lunar using premium materials that include a water-repellent nylon body and high-grade nylon straps. The bag features oversized zippers, leather accent, and a reflective metal logo that draws the eye. Its ultra-soft padded laptop compartment will ensure that your electronics are protected while on your commute to the office or while cycling to a café to finish a project, and like all of Everki's products, it is backed by the company's Limited Lifetime Warranty and world-class customer service.
Everki continues to offer the most compelling range of 18.4" laptop bags available today. The company's products are for laptop users that want a little more style in the bag they carry, and its Lunar Laptop Briefcase is its most versatile and feature-rich offering to date. As another proud owner attests,
"I use the laptop for school, work, and gaming (when I have the spare time), so it was important to be able to fit a few accessories as well. The Lunar 18.4" Laptop Bag fits the bill better than I could have hoped… Thanks Everki!"
The Lunar is priced at $149.99 and $119.99 MSRP for the 18.4" and 15.6" respectively and is available at major online resellers tigerdirect.com, walmart.com, newegg.com, amazon.com and Fry's and CompUSA retail stores. For more information on the Lunar and Everki's other premium products, visit http://www.everki.com.
About:
Everki manufactures stylish and innovative lifestyle products that carry and protect the digital equipment we use everyday. Everki products combine comfort, convenience, durability and style. Everki distributes products throughout North America, Australia, Asia, and Europe. For further information, visit Everki's Website at http://www.everki.com.
Copyright © 2011 EVERKI International Co. Ltd. All rights reserved. Everki and Everki logo are registered trademarks or trademarks of Everki International. Other company and product names may be trademarks of their respective owners.
# # #