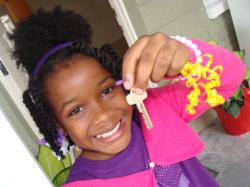 Los Angeles, CA (PRWEB) May 24, 2011
Donate My Card™ announces its newest charity partnership with Habitat for Humanity of Pinellas County, Florida.
Habitat for Humanity creates homeownership opportunities for struggling families with the help of their community. Habitat believes that a community where everyone has a decent place to live is a matter of conscience and action. People who are interested in donating their cards to Habitat for Humanity can do so at https://donatemycard.com/HabitatPinellas
Habitat for Humanity provides a 'Hand Up, not a Hand out'. "Without the support of the community at large," says Steve Lightburn, VP Development for Habitat Pinellas, "we cannot serve those in need." Qualified home owner candidates provide 'sweat equity' in helping to build their and others houses and they must complete thirteen classes ranging from money management to becoming good neighbors. "The Donate My Card program provides a way for individuals to support their cause of choice through a convenient online portal," Mr. Lightburn continues. "It provides for creative disposal for those remnant gift card balances while creating value for their charity."
Lawrence Bracco, CEO and co-founder of Donate My Card, said, "Habitat Pinellas is a fantastic organization doing important, valuable work in West Florida. We are pleased to have them as the first Habitat affiliate to be launching the Donate My Card program. And we are excited to be able to provide them with a way to generate additional contributions and potential new donors. With billions of dollars available in unused gift card balances, Habitat now has a significant resource to provide more families with affordable housing homeownership."
With an estimated $5-10 billion ending up unused on the $100+ billion of gift and prepaid debit cards sold each year in the United States according to industry studies, holders of gift cards, rebate cards and pre-paid debit cards can now easily, safely and securely donate those balances without spending additional dollars through Donate My Card's website, http://donatemycard.com. Donate My Card currently accepts any "open-loop" cards, those issued by VISA®, MasterCard®, Discover®, and American Express®.
Donate My Card's mission is to turn the billions of dollars in small, unused balances on prepaid gift and debit cards into resources for great causes. Donate My Card is a privately held company and is headquartered in Los Angeles, California.
If you'd like more information or would like to schedule an interview with Lawrence Bracco, please call Sandra Miller at (424) 233-0230 x106 or email her at smiller(at)donatemycard(dot)com.
###