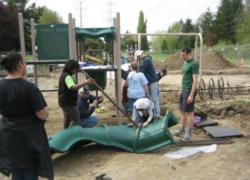 The best part is having the kids involved from the ground level and the collaboration of the community to get it installed
Beaverton, OR (PRWEB) May 23, 2011
When planning began for a new playground in John Marty Park, the Tualatin Hills Park District (THPRD) went straight to some of the best designers they could find to garner ideas—neighborhood kids and families. GreenWorks, a landscape architecture and environmental design firm, led the design brainstorm and the kids created drawings of their playground ideas.
To help the process along, neighborhood meetings, on-line comments and voting for final designs were included that features a play space comprised of traditional and contemporary components.
The culmination of the comprehensive planning was a volunteer playground build on May 14 hosted by the Beaverton Optimist Club that included the synergy of GreenWorks and THPRD staff, as well as community members young and old. Buell Recreation, the local BCI Burke playground representative in Oregon, provided the professional playground advice.
"The best part is having the kids involved from the ground level and the collaboration of the community to get it installed," said Jerry Burgess, THPRD Park Project & Events Supervisor. "We sought input from neighbor's right from the start since they are the ones that will get the most use from it," he added.
The playground was designed specifically for the site to include challenging spinning events, invigorating slides, strength-building overhead components, the ever-popular swings and ample climbing options. Two separate play units provide activities for the 2-5 and 5-12 age groups. The park space features a large Community Garden and a long pathway which is a part of the Regional Trail system.
"We are proud to provide this playground that continues to fulfill the mission of the THPRD including providing high-quality park and recreation facilities, programs, services and natural areas that meet the needs of the diverse communities it serves," Burgess concluded.
###