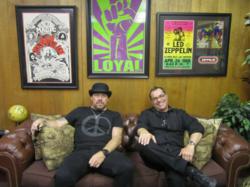 "We were honored to have these great talents in our studio,"
Burbank, CA (PRWEB) May 21, 2011
Bob Bekian opened the doors of Loyal Studios to host Nicole Scherzinger of the Pussycat Dolls and Jason Bonham, son of Legendary Led Zeppelin drummer John Bonham. The project involved Scherzinger singing "Black Dog" by Led Zeppelin while Bonham accompanied on drums.
"We were honored to have these great talents in our studio," Bekian said. "Nicole has an incredible voice and a commanding presence, and Jason Bonham rocked the studio all day with his consistent, hard driving beat." The commercial was produced to play during the NBA Playoffs inter-cut with highlights of the leading players in the NBA.
The story was also covered by EXTRA and ESPN throughout the shoot and the final product is being carried internationally during the NBA playoffs.
Loyal Studios has several locations and specializes in producing high definition content through the latest technology and services. "The new way of producing is to capture the content into file-based formats and convert those files immediately into usable images for the editor to work with," Bekian adds. "With this type of real-time production, producers are able to make decisions about how the shots are going and often will make changes immediately on set." In the past, film had to be taken to a lab and processed and then converted to tape before producers and directors could view what they had shot.
Loyal Studios and Bekian have embraced the newest technical advances and equipped the Loyal Studios facilities with the ability to shoot, archive and edit all in one day and in one place. "The methods of production are changing, but there will always be a demand for compelling entertainment, and Nicole and Jason certainly delivered it on this project."
To view the NBA commercial, click HERE.
To learn more about Loyal Studios, visit http://www.loyalstudios.tv
###