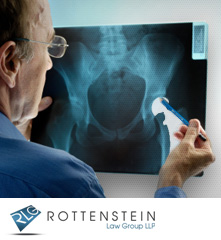 New York, NY (PRWEB) May 26, 2011
Since DePuy's ASR XL Acetabular, and ASR Hip Resurfacing systems were recalled by the U.S. Food and Drug Administration (FDA) in August, 2010, and more recent revelations have brought to light issues with their older Pinnacle systems, there has been an enormous outcry over the catastrophic failures of these devices. Statistics have shown that 12 percent of recipients experienced symptoms indicating failure of the device within 5 years of implantation, according to data compiled by artificial joint registries in Australia and the United Kingdom. Those symptoms include pain and swelling, associated with the rapid deterioration of the metal-on-metal device, to the point where it begins to release metal flakes into the bloodstream. This condition, metallosis, can lead to serious health problems for patients, including increased levels of metal in the bloodstream, tumors and heart problems. Many patients have had to undergo painful revision surgeries that can take an extended period of time to recover from.
The DePuy hip replacement recall has affected about 93,000 people worldwide, according to information provided by DePuy itself. Many lawsuits have been filed, as can be seen in myriad court filings, but there is no way to know if everyone who has undergone a hip replacement procedure is aware of what has been happening since last August. Technology is a powerful tool, and the Rottenstein Law Group has taken the initiative by using the Internet to disseminate the latest details of this case. Recent developments have included new lawsuits filed by recipients of the Pinnacle systems (which have yet to be officially recalled by the FDA), debate over consolidation of cases via Multidistrict Litigation (in case no. MDL 2244 before the United States Judicial Panel on Multidistrict Litigation), and questions regarding Johnson & Johnson's attempts to acquire other replacement joint manufacturers, as recently reported by several business news outlets.
Above all, the Rottenstein Law Group endeavors to protect and provide legal assistance to patients who have been wronged by this large corporation, and are in danger of not receiving adequate compensation for pain, suffering, medical expenses and lost wages. Friends, family members and hip replacement recipients are strongly advised to take to the Internet and utilize the power of search engines such as Google to obtain the latest information about the DePuy hip replacement recall. The Rottenstein Law Group maintains a Web site which provides regular updates on the ASR systems lawsuits, and allows users to have their claims evaluated by hip replacement lawyers. Another Web site deals specifically with patients who were implanted with a Pinnacle device and are seeking information. Both can be found quite easily by typing the phrase "hip replacement recall" into a search engine text box. Plus, there are easy-to-use social media features on these sites that give users the option to spread the word via Twitter, Facebook and other outlets. To date, these Web sites have been averaging over 10,000 hits per month, providing users with the information they need about this important topic.
About THE ROTTENSTEIN LAW GROUP
The Rottenstein Law Group is a New York-based law firm that represents clients in mass tort actions. The firm was founded by Rochelle Rottenstein, who has more than two decades of experience as a lawyer, to represent clients in consumer product injury, mass tort, and class action lawsuits in a compassionate manner. http://www.rotlaw.com
Contact:
The Rottenstein Law Group, LLP
Rochelle Rottenstein, Esq.
1259 Veeder Drive
Hewlett NY 11557
(212) 933-9500 (office phone)
(212) 933-9980 (facsimile)
rochelle(at)rotlaw(dot)com
http://www.rotlaw.com
# # #