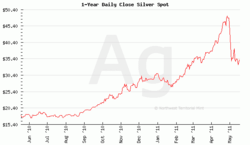 When we bought (Silver.com), we recognized that silver was an up-and-coming metal," Mike Zapolin said. "It was trading for around $17 per ounce when we launched, and today, just over a year later, ounces are trading at record highs."
(PRWEB) May 20, 2011
Domain Holdings has announced that it helped to create a strategic alliance between Silver.com and Northwest Territorial Mint, the leading silver investment company, as prices of silver soar to a 31-year high.
Domain Holdings assisted internet entrepreneur and strategic partner Mike Zapolin and his team to form a partnership with the leading silver investment firm. Zapolin and Domain Holdings built Silver.com from a parked domain name into a global resource for silver information, with tens of thousands of visitors each month. Zapolin's group acquired the domain brand based on his conviction that silver prices were going to rise.
"When we bought the domain name, we recognized that silver was an up-and-coming metal," Zapolin said. "It was trading for around $17 per ounce when we launched, and today, just over a year later, ounces are trading at record highs. Investors have woken up to the fact that silver has so many industrial uses, that there's a deficit of silver in the world, and as people continue to lose faith in paper money, silver will be one of the big winners."
The strategic alliance allows Northwest Territorial Mint to reach consumers while maximizing the credibility of the brand, as well as Silver.com's strong traffic. The current site, created by Zapolin and Domain Holdings, was built to be scalable enough to support the growth of a partner like Northwest Territorial Mint, a company the two parties researched heavily prior to the deal.
"We had conversations with all of the top-level players in the industry, and Northwest Territorial Mint was the perfect partner," Domain Holdings co-founder John Ferber said. "Northwest Territorial Mint is leading edge in the industry, passionate about its business, and confident in the opportunities that have yet to be presented in the silver market."
Prior to the deal with Northwest Territorial Mint, Domain Holdings helped develop Silver.com. Utilizing its in-house web design and development resources and original content management services, Domain Holdings produced an SEO-ready, informative destination. Features for the site include a widget to track silver's real-time market value and updated industry news to educate users interested in investing in the precious metal.
"Identifying and building a site is an important complement to the real value of the domain process, which is developing strong partnerships with companies that are passionate about that specific vertical," Zapolin said.
About Domain Holdings
Domain Holdings is led by a team of true visionaries and pioneers of the digital world, including John Ferber, co-founder of Advertising.com, the world's largest and most successful third-party online advertising network, which was acquired by AOL in 2004. Always striving to contribute to the growth of the Internet industry, Domain Holdings delivers the highest quality traffic, while maximizing the value of its partners' domain portfolios. As an industry leader, Domain Holdings' comprehensive monetization and full-scale domain development can dramatically increase your presence online, while offering strategic decisions that provide an unmatched return on investment – no matter the size of your business. For more information, visit http://www.domainholdings.com or call 561-634-7349. Follow us on Twitter and Facebook.
About Northwest Territorial Mint
As a major dealer in precious metal bullion products in the U.S. and Canada, Northwest Territorial Mint is internationally recognized and well-established in both wholesale and retail supply of silver, gold, palladium and platinum precious metal bullion.
As a trusted retailer of United States Mint bullion, Northwest Territorial Mint buys and sells American Eagle gold bullion, silver bullion, and platinum bullion coins, each with a guarantee by the U.S. Government.
Its bullion offices are located in Federal Way, Washington; its corporate offices and 118,000 square-foot minting facility are located in Dayton, Nevada; and the company maintains a nationwide network of resources, including a die-cutting facility in Green Bay, Wisconsin; a sales office in Alexandria, Virginia; and a retail store in The Pentagon. For more information about Northwest Territorial Mint, visit http://www.NWTMint.com or call toll-free 1-800-344-6468 (7:00 AM – 5:00 PM., Pacific Time).
About Mike Zapolin
Zapolin is the visionary behind such Internet brands as Music.com, Beer.com, Computer.com, Creditcards.com, Debt.com, Diamond.com, PrescriptionDrugs.com, Silver.com and HomeMortgage.com. Zapolin has been featured multiple times on NBCs "Today Show," as well as ABC, CBS, CNBC and CNN, and in newspapers and magazines including The New York Times, The Wall Street Journal, USA Today, Business Week, and Success Magazine. Zapolin is the creator of the Harvard Business School elective "eBusiness," and was recently a featured speaker at The Economist Magazine's "Global Branding" conference in Shanghai, China. Zapolin began his career at Drexel Burnham Lambert, later becoming one of the youngest Vice Presidents in the 100-year history of investment bank Bear Stearns. After leaving, Zapolin started his own direct marketing company called Z.T.V., where he created infomercial campaigns for clients that included Time Warner, Diana Ross and VH1 Networks. Along with Deepak Chopra, he co-authored "Ask the Kabala," a beginner's guide to spirituality and kabala. To learn more, visit http://www.Zappy.com.
###