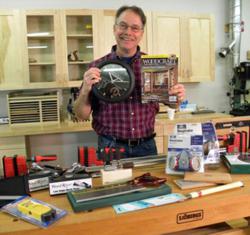 Check out the Father's Day gift list from The American Woodshop host Scott Phillips to find tools and accessories that make Dad's chores easier.
Parkersburg, WV (PRWEB) May 20, 2011
Let Woodcraft make shopping for the Dads in your life easy this year. Check out the Father's Day gift list from The American Woodshop host Scott Phillips to find tools and accessories that will make Dad's chores easier, whether he's a DIYer, a woodworker—or both.
SHOP CONVENIENCE AND SAFETY
Woodshop Clock With Thermometer & Hygrometer: Triple duty timepiece keeps track of the time and two factors that affect shop projects—moisture and temperature. Battery operated. (#146137, $25.50)
General Extendable Roller Stand: Give Dad more work space with this adjustable height stand that serves as an infeed or outfeed table for most machines. Stand supports up to 200 lbs. (#845088, $177.99)
Toxic Dust & Multi-Purpose Respirators: Toxic Dust Respirator traps 99.97% of toxic dust including lead, asbestos and Hantavirus. (#141621, $39.99) Multi-Purpose Respirator offers the same coverage, plus protection from paint and lead fumes, pesticides, and more. (#141623, $50.99) Both meet OSHA and NIOSH standards.
GENERAL TASKS
4-IN-1 Multi Function Detector: Measure moisture in wood, check behind walls for studs, beams, joists, metal and live AC wires, and check receptacles and switches—all with this one tool. Battery operated. (#148111, $34.99)
Hard Black Arkansas Stone: Dad can keep his tools sharp with this 8" × 3" x 1/2" true novaculite stone that removes less metal than manmade stones and polishes while sharpening. (#145721, $49.99)
Porter-Cable 12-Volt Max Compact Lithium 2-Tool Kit: Make Dad's work easier with this powerful duo—Drill/Driver with two-speed gearbox for high-speed drilling and high-torque fastening (1,200 rpms) and an Impact Driver that delivers 950 lbs. torque without kickback (2,500 rpms). Both powered by lithium ion batteries. (#847826, $139.99)
WOODWORKING
Woodcraft Magazine Subscription Deal: This year-round gift delivers top quality project, technique and tool features, along with shop tips, wood facts and more. (Beginning June 1, a two-year subscription will be available for the one-year price of $19.97. Code: WMAG2)
WoodRiver® Anti-Kickback 10-Piece Router Bit Sets: Woodworking Dads will welcome these carbide bits that feature an anti-kickback design for safer operation. 1/4" shank set (#150704, $83.99); 1/2" shank set (/#150705, $83.99)
Pfeil Swiss Made Butt Chisels: Easier and more controllable for joinery, these 6" butt chisels are made of Swiss alloy tool steel in four sizes: 1/4", 1/2", 3/4" and 1". Available in a four-piece set (#05B12, $109.99) or individually (#05B13-#05B16, $28.99-$33.99).
DeWalt 20" Heavy-Duty Variable-Speed Scrollsaw: This super gift for a scrollsaw enthusiast features an oversized cast-iron table that tilts 45° left and right and has a capacity for 2"-thick stock at 90°. Tool-free blade changing system. (#127233, $549.99)
Purchase one of more of these gifts by contacting the Woodcraft store nearest you, visiting http://www.woodcraft.com or calling (800) 535-4482.
For more information about Woodcraft, the industry leader in providing a wide variety of top quality products, educational opportunities and one-on-one guidance to woodworkers of all skill levels, visit http://www.woodcraft.com.
###