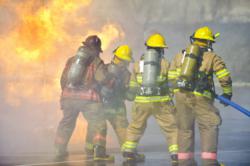 We owe it to them to do whatever we can to help them in their time of need.
Edmonton, Alberta (PRWEB) May 19, 2011
Edmonton Philanthropist Jesse Willms announced today that he is giving $5,000 to the Canadian Red Cross to help them provide shelter, food and support to Slave Lake residents who have lost their homes due to raging forest fires this week.
"These people are our friends and neighbors," Willms said. "We owe it to them to do whatever we can to help them in their time of need. The Canadian Red Cross is in charge of humanitarian efforts at the scene, and they deserve our support."
The fire that has been burning for several days now has wiped out entire subdivisions in the Slave Lake area, leaving more than 7,000 people homeless.
"What's even more disturbing," Willms said, "is that there are indications that this fire was sparked by people being irresponsible. It's bad enough when forest fires are due to natural causes, but it's particularly horrific when they are the result of manmade actions."
Willms is a well-known Edmonton businessman. He started his first company in his parents' basement when he was 16 years old. By the time he turned 22, he had built that company into a multimillion-dollar business now called Terra Marketing Group.
Last year he was inspired by the words of Bill Gates and Warren Buffett to use his money and influence to help make the world a better place. Since then he has donated hundreds of thousands of dollars and many hours of his time to reputable non-profit organizations.
"I've thrown my support behind the Red Cross before," Willms said. "I do so because they are the most reliable and trustworthy organization at the scene whenever any disaster strikes. I also donated money to the Red Cross when earthquakes struck Japan earlier this year."
In fact, at the time of the Japanese earthquake, Willms noted that one of the reasons to support the Red Cross when disasters happen overseas is because eventually disaster will strike at home. "No community is immune from natural disasters and we all need to help each other whenever and wherever they may strike."
Willms said he is also looking to find ways to help with the physical reconstruction that will have to take place is Slave Lake once the danger of fire has completely abated.
"I don't believe in simply giving money," Willms said. "I also believe in giving my time. As soon as it is safe to do so, I will be out there with other volunteers helping organizations that need manpower."
Willms said he was making the announcement today to make build awareness for the Red Cross' efforts in Slave Lake, and to encourage other people to provide them with their support as well.
# # #