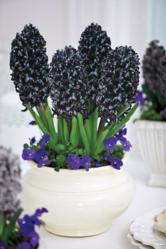 A massive breakthrough in hyacinth hybridizing, this is the first black hyacinth offered to the public in U.S. history.
(PRWEB) May 21, 2011
It can be difficult sometimes to find the right flowers for your garden. With so many options available, choosing the right style, height, color and species can be a challenge, especially if you're looking to increase color and interest. One easy way to instantly add interest to any garden is to create contrast. Change up your traditional perennial garden by adding something visually striking and different. Planting unusual flowers among classic garden mainstays is an easy way to add drama and elegance to an otherwise simple landscape.
That's why we're excited to introduce the new Midnight Mystique Black Hyacinth. Talk about drama – we're confident we've never seen a richer, darker color in any hyacinth variety. The Midnight Mystique Black Hyacinth is an easy-to-grow, extremely hardy bulb sold to the public exclusively from Breck's.
A massive breakthrough in hyacinth hybridizing, this is the first black hyacinth offered to the public in U.S. history. We searched far and wide for a truly black hyacinth for many years before finally coming upon this elegant beauty. A true labor of love, Midnight Mystique was nearly two decades in the making, but well worth the wait. The first of its kind, blooms are the deepest, darkest color we have ever seen in a hyacinth.
This intriguing hyacinth is so unique and so valuable, the first three bulbs of this variety exchanged hands in England for £150,000. At just 10" tall with lustrous black, heavenly scented spring-blooming florets that glisten in sunlight, it will be an irreplaceable addition to borders, pots and other prominent locations in your spring garden. The Midnight Mystique Black Hyacinth grows in zones 3-9, proving its growing diversity and reliability. This variety is also quite tough, withstanding variable spring weather with ease and returning year after year with little care.
Midnight Mystique bulbs are available only from Breck's, and only on a limited basis. This flower is just too stunning to not take advantage of its rarity. You can be quite certain that you will be one of a very few to show off this unique beauty in your garden.
For more information on Black Hyacinth Midnight Mystique, visit http://www.Brecks.com/Midnight. To request a high-resolution photo, contact publicity(at)gardensalive(dot)com.
Breck's is a mail order gardening company and importer of Dutch flower bulbs. Based in Guilford, Indiana, and Hillegom, Netherlands, Breck's was founded in 1818. Breck's is now the largest U.S. importer of Dutch bulbs.
###