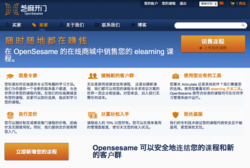 Making the OpenSesame marketplace available in six additional languages is just the first step towards unlocking access to a broad, fresh catalog of elearning courses for businesses and organizations worldwide
Orlando, FL (PRWEB) May 23, 2011
OpenSesame (http://www.OpenSesame.com), a fast-growing elearning marketplace, today announced that its marketplace is now available in six languages in addition to English, including Chinese, Spanish, French, Russian, German and Italian.
OpenSesame will formally unveil the new multi-language marketplace today at the American Society for Training & Development's annual International Conference and Exposition. This is the premier international event in the professional training and development industry, featuring more than 8,000 attendees from organizations all over the world.
"We're building the world's marketplace for buying and selling elearning content," said OpenSesame President & CEO Don Spear. "Making the OpenSesame marketplace available in six additional languages is just the first step towards unlocking access to a broad, fresh catalog of elearning courses for businesses and organizations worldwide."
Unlocking eLearning Across the Globe
In addition to making the OpenSesame marketplace available in seven languages, the OpenSesame business development team is working with sellers worldwide to add courses in diverse languages for sale in the marketplace.
"The OpenSesame catalog already features more than 80 courses in Chinese and we're also working with the innovative language teachers at Capturator to offer French, Spanish, Italian and English courses targeted to a variety of language speakers," said OpenSesame Vice President of Community Development Tom Turnbull. "We look forward to developing a broad selection of content to meet the growing demand for elearning resources worldwide."
The OpenSesame team welcomes content for sale in its marketplace in any of the seven currently supported languages and plans to add additional languages in the next quarter.
OpenSesame's Focus on China
While the bulk of elearning transactions take place in the U.S. and Europe, research from industry analysts shows that the highest growth areas for elearning are in the Asia Pacific region. As a result, OpenSesame is focused on establishing a strong presence in China in order to build name recognition and capture attention from elearning buyers in this emerging market.
"We have built a Chinese business and web development team to create a culturally-appropriate version of our website and build relationships with buyers and sellers in China," said OpenSesame Senior Vice President and General Manager Josh Blank. "These team members are ramping up our Chinese operations quickly and we look forward to translating the OpenSesame marketplace into dozens more languages."
"We believe the OpenSesame marketplace is a perfect place to market our courses and help us establish new customer relationships, especially since the website is available in seven languages," said Zhanhui Wang, a course seller in OpenSesame's marketplace. "In addition, we are impressed with the content and functionality of the Chinese-language OpenSesame website."
About OpenSesame
Based in Portland, Oregon, OpenSesame is an open marketplace for elearning that connects the buyers and sellers of elearning courses. Buyers browse thousands of courses in a wide variety of subjects from workplace safety to business skills– all compatible with any Learning Management System. OpenSesame was recently named winner of the 2011 Angel Oregon Competition that identifies Oregon's most promising young companies. For more information, visit http://www.opensesame.com or follow @OpenSesameNow on Twitter.
###