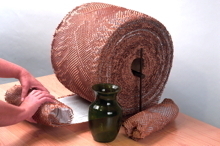 With our new lower price for our Ready-to-Use Roll Starter Kits, lite volume shippers will now realize even better value for this 'green' method of packaging
Raleigh-Durham, NC (PRWEB) May 24, 2011
Geami, developers of recyclable packaging materials, has unveiled a new reduced price offer for lite-volume shippers who are looking to replace plastic bubble packaging with a more environmentally friendly solution that offers more value with less cost. Depending on the type of Starter Kit, the company has reduced the price by 10-20% for orders placed through the company's website (http://www.geami.com/rolls)
For more than fifteen years, Geami has been known for their recyclable packaging materials that are used by Top 100 Catalogers and Fortune 500 companies alike. With the new reduced price for the company's Ready-to-use Roll Starter Kits, lite-volume shippers are now better able to realize the same benefits as large volume shippers, who continue to replace bubble packaging with the company's more sustainable and cost effective packaging material.
"For Companies that ship a fewer number of packages per day, the cost of packaging is just as important as it is to larger volume shippers. With economic conditions being what they are, we felt it was important to continue to improve pricing in order to provide a recyclable packaging solution with the supply budget of these companies in mind," said Lynn Moe, Business Development Director at Geami (http://www.geami.com).
The raw materials used to make Geami packaging supplies are sourced from certified sustainably managed forests. With only 10% of the world's forests currently certified, accountability is important to preserve forests for future generations and to that end, the company participates in a rigorous chain of custody program to insure that only paper from certified forests are used to produce Geami's line of recyclable packaging products. The company's products provide opportunities for businesses of all sizes to save on overall shipping costs, reduce shipping damages and enhance the in-the-box presentation of products shipped to customers, which in turn improves public image.
"As a company, we are always looking to find ways to reduce the costs of our recyclable packaging materials. Geami helps protect the environment through reducing the use of oil-based plastic bubble packaging and foam packing materials. Our eco friendly packaging materials have been in use by companies for shipping throughout the US for over 15 years. By reducing the price of our Ready-to-Use Roll Starter Kits, lite volume shippers will now realize even better value for this 'green' method of packaging," said Braulio Libero, President of Geami (http://www.geami.com).
About Geami:
Geami (http://www.geami.com/greenwrap.html) has been in business for over 15 years offering one of the most eco-friendly protective packaging materials available on the market today. The company's line of products are a cost effective replacement for plastic materials such as bubble packaging and are used by many highly respected companies - large and small. Over 4 million packages are shipped every year using Geami recyclable packaging materials.
###