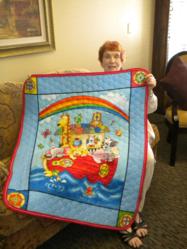 We have so much. We need to share with others.
Bountiful, UT (PRWEB) May 23, 2011
Senior Citizens at Heritage Place Senior Living are collecting 2,011 blankets to donate to charities benefiting disaster survivors and those in need. The blanket drive runs until July 22, 2011 when Bountiful celebrates Handcart Days with a parade and fair.
Elizabeth Jordan, a resident of Heritage Place, encouraged administration of Heritage Place, one of the state's most experienced providers in senior care, to sponsor the service project. "Isn't there something to do to help those in need, especially those affected by the latest disasters? We have so much. We need to share with others. We need to give comfort to those that are hurting," said Jordan.
"This seemed like the perfect service project, " said DaLynn Case, Life Enhancement Coordinator at Heritage Place. "With the theme of Bountiful City's Handcart Days being 'Faith of our Fathers', we feel our ancestors would have helped others in need, so we are privileged to salute our grandparents by serving those in need."
This is a lofty goal. 2,011 blankets laid out would cover almost 21 football fields. If laid end to end would go for nearly three miles.
The selected charities are: Operation Smile, Doctors Without Borders, American Red Cross and LDS Humanitarian Services. With all the natural disasters happening recently, these organizations are in desperate needs of the blankets and quilts. Blankets may range in size from 45" x 45" (infant size) to double bed size. Donations may be made at Heritage Place Senior Living in Bountiful, Utah at 1150 S. Main Street during regular business hours.
Heritage Place is not only soliciting blankets, but service hours as well. There will be multiple quilting frames set up for volunteers to complete.
For questions regarding donating blankets or service hours, contact Heritage Place directly at 801-298-3241.
###