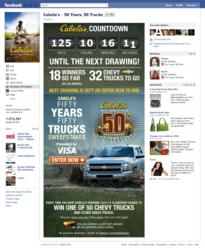 Albany, NY (PRWEB) May 23, 2011
Cabela's, the world's largest direct marketer of hunting, fishing, camping and related outdoor merchandise, has retained Media Logic, a nationally-recognized agency specializing in marketing for a social world, to support the company's recently launched 50th anniversary promotion with ongoing and sustained communications over social media. Media Logic will leverage Facebook as the primary social network to add excitement and urgency to Cabela's year-long promotion, "50 Years, 50 Trucks."
In collaboration with Cabela's, Media Logic designed a social marketing strategy that raises awareness of the sweepstakes, engages consumers in new and unique ways not possible in other traditional channels, and ultimately, harnesses the energy of Cabela's Facebook Liker base to drive sales.
"Right now there's a lot of potential energy in Cabela's social marketing universe; the brand's Facebook page will soon break a million fans," said Ronald Ladouceur, executive vice president and executive creative director of Media Logic. "We're here to help Cabela's tap into that potential energy."
Because the promotion involves multiple prizes and drawing dates, the focus of Media Logic's work will shift several times throughout the year, alternating between three distinct promotion phases: driving awareness and participation, capturing excitement of participants and maintaining momentum. The fluid nature of the campaign makes Facebook the ideal platform for engaging Cabela's enthusiasts – by allowing multiple opportunities for Liker engagement the ability to adjust messaging in real-time.
"For many retailers, successful promotions start with a strong Facebook foundation," said Ladouceur. "The retail industry has done an excellent job of gathering Likers and followers; we're taking the next step and coalescing the customer base around a social promotion that encourages participation and action."
The social arm of the "50 Years, 50 Trucks" promotion can be found at http://www.facebook.com/Cabelas.
###