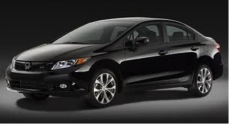 El Paso, Texas (PRWEB) May 21, 2011
While New York is far away, the sales professionals at Rudolph Honda - the premiere Honda dealer in El Paso - are liking the idea of turning a Macy's Store Window into a showroom for one of the best cars in the world. According to Rudolph Honda, any publicity the Honda Civic gets is good with them.
The Civic "window dressing" is to help promote the Civic Racing Style sweepstakes which heralds the arrival of the all-new, ninth generation Honda Civic. Beyond the contest, the arrival of the new Civic has many people very excited.
The contest is open only to New York residents, but the Civic being on display in NYC has people all over the country excited about the new 2012 Civic.
"Teaming with iconic brands like Macy's and IZOD and offering consumers chances to win a new Honda Civic and the experience of starting an IndyCar race with Mario Andretti makes this one of the most unique promotions we have undertaken, there is nothing like it in sports," said Richard Kent, senior manager of Honda.
Under the banner "To Each Their Own", the 2012 Honda Civic made its world debut last month at the New York International Auto Show. The 2012 Civic boasts the most diverse lineup in the history of Civic with six unique models:
● 4-door Civic Sedan
● 2-door Civic Coupe
● high-performance, 201-horsepower Civic Si Sedan and Coupe
● The 41mpg(1) Civic HF
● The 44mpg(1) Civic Hybrid
● A Civic Natural Gas model.
Additional highlights of the new Civic lineup:
● Available new technology features include an intelligent Multi-Information Display (i-MID), USB Audio Interface, Bluetooth HandsFreeLink, and a Satellite-Linked Navigation System with voice recognition and FM Traffic
● Advanced safety systems include the Honda-exclusive Advanced Compatibility Engineering (ACE) body structure for frontal collision energy management and vehicle-to-vehicle crash compatibility.
● Major gains in fuel economy, including the 44mpg(1) Civic Hybrid, America's most fuel efficient sedan, and the 41mpg(1) Civic HF.
● New powertrain technologies include a re-engineered 1.8-liter 4-cylinder engine with enhanced fuel economy, a larger and more powerful 2.4-liter 4-cylinder Si power plant, and a new Civic Hybrid powertrain that delivers higher overall performance and improved fuel economy
Local El Paso residents who have questions about the new 2012 Civic or want to take one for a test drive are encouraged to stop by Rudolph Honda - the premiere Honda dealership in El Paso and surrounding areas. Their sales team are helpful, friendly, and professional. With a long history of serving local residents, they are excited to be able to offer the great new Honda Civic.
###