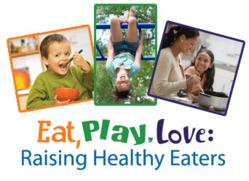 Focus more on HOW to feed kids versus WHAT to feed kids.
Sacramento, Calif. (PRWEB) May 19, 2011
The following child-feeding tips were compiled during a webinar on May 18, hosted by Dairy Council of California, to help parents raise healthy eaters and end dinnertime drama.
1. Focus more on HOW to feed kids versus WHAT to feed kids.
2. Adopt a feeding strategy, and use Ellyn Satter's "Division of Responsibility in Feeding Model," in which parents decide the "what, when and where" of feeding and children decide "whether" and "how much" they'll eat.
3. Trust children to respond to their own hunger and fullness cues.
4. Make time for family meals—breakfast, lunch or dinner—and serve the same meal for adults and children. No short-order cooks!
5. Take a positive approach to food; don't talk about foods as good or bad.
6. Be a healthy role model. Try new foods, make healthy choices, drink milk and eat a variety of foods from all food groups.
7. Don't bargain, bribe or reward kids with food.
8. Expose children to new foods 10 – 15 times or more. Pair a new food with a favorite for a more positive experience.
9. Give kids choice—let them choose between two healthy options, like carrot or celery sticks with yogurt-based dip as a first course or applesauce or pears for dessert.
10. From an early age, get children involved in planning and preparing healthy meals.
The webinar featured registered dietitians Janet Helm, author of NutritionUnplugged.com, Maryann Jacobsen, author of RaisingHealthyEaters.com, Jill Castle, author of JustTheRightByte.com and Andrea Garen with Dairy Council of California. Access a recording of the entire webinar at http://learningtimesevents.org/dairycouncilofca/.
About Dairy Council of California and Meals Matter
Through the nutrition education programs they develop, Dairy Council of California promotes nutrient-rich choices from all food groups and regular physical activity as the foundation for optimal health. Healthy Eating Made Easier®.
Meals Matter is a free family nutrition and meal-planning website staffed by registered dietitians with Dairy Council of California.
###