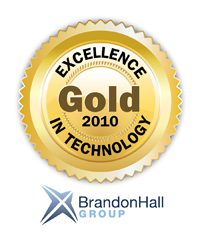 "This is an exciting and continued validation of our efforts to provide innovative solutions to our customers and partners in the mobile learning arena to enable on-the-go training, performance support and business communications."
Savannah, GA (PRWEB) May 20, 2011
OnPoint Digital, Inc., a leading enterprise mobile learning solutions provider, has won a coveted Brandon Hall Gold award for technology excellence in the "Best Advance in Technology for Mobile-Learning Authoring" category for the second year in a row. OnPoint's winning entry showcased its CellCast® Solution, designed to deliver a wide variety of content types and associated tests or surveys to mobile workers. CellCast enables trainers and content authors to design and produce content once that can easily be re-factored for optimized delivery to a broad range of devices including BlackBerry® Wireless Handhelds, Apple iPhones®, iPads® and iPod® touch media players, Google Android® handsets and tablets, Microsoft Windows Mobile® and Windows Phone® devices, and Nokia Symbian-based smartphones as well as to the desktop, laptops and netbook computers. The CellCast Solution platform also offers a full set of enterprise-grade functionality including easy branding and customization, seamless platform integration and best-in-class security features.
"We are thrilled to be recognized by Brandon Hall and their esteemed panel of judges for our CellCast Solution," said Katherine Guest, Vice President of Sales & Marketing for OnPoint Digital. "This is an exciting and continued validation of our efforts to provide innovative solutions to our customers and partners in the mobile learning arena to enable on-the-go training, performance support and business communications."
According to Dr. Clark Quinn in his recent report Mobile Learning: Landscape & Trends - May 2011, "the research indicates that companies are progressing on the mobile front, and while the initiatives are as yet small, the trends are for more activity… and an increase in percentage of companies that plan to do mLearning has increased from 38.5% in 2007 to 51% in 2011", as these firms look for ways to easily and quickly create, deliver and track content deployed to workers' smartphones and tablet devices.
The Brandon Hall Excellence in Learning Technology Awards are presented by Brandon Hall Group, a leading research firm in training and development. The Learning Technology Awards program showcases innovations in the products in the marketplace for creating and managing learning, talent, and performance.
"These excellent tools and systems are the cutting edge of learning technology," said Tom Werner, chief research officer and director of the Awards program. "They really change for the better how people learn in the workplace."
About OnPoint Digital, Inc.
OnPoint Digital, Inc. is a leading learning solutions provider dedicated to the development of powerful yet affordably priced eLearning and mLearning tools for the enterprise.
OnPoint's innovative and award-winning CellCast Solution allows companies to easily create, deliver and track mobile content and assessments directly to users' mobile devices. Smartphone learners use customized CellCast Apps to download and sync a wide variety of content types (including video, audio, narrated PowerPoints, HTML and ePUBs) and take tests and surveys on their devices. With CellCast, organizations have a powerful, customizable and secure platform to deliver just-in-time training, learning reinforcement, surveys, and marketing updates. OnPoint's CellCast Solution helps organizations leverage their investment in mobile devices by maximizing their employees' time while mobile while ensuring a stable and mature environment for tracking and reporting results.
OnPoint also offers a full-featured Learning Management System software suite for the creation and management of rich-media courseware, assessments, skill tracking and reporting, with numerous options including document management, e-commerce, localization and single sign-on modules.
About Brandon Hall Group
Having worked with more than 5,000 clients globally and after 17 years of delivering world-class solutions, Brandon Hall Group is the preeminent research and analyst organization focused on developing research-driven solutions to drive organizational performance for emerging and large organizations. Through the recent merger of Brandon Hall Research and AC Growth, Brandon Hall Group has an extensive repository of thought leadership, research, data, and expertise in Learning and Development, Talent Management, Sales, Marketing, and Executive Management.
(c) copyright 2011, OnPoint Digital, Inc. All rights reserved.
The BlackBerry and RIM families of related marks, images and symbols are the exclusive properties and trademarks of Research In Motion Limited.
Apple, the Apple logo, Mac, Mac OS, Macintosh, iPod and iPhone are trademarks of Apple.
Android is a trademark of Google Inc. Use of this trademark is subject to Google Permissions.
Windows is a registered trademark of Microsoft Corporation in the United States and other countries.
###