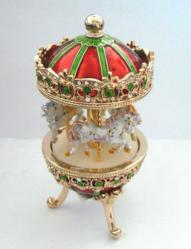 collectibles are hand set with Swarovski Crystals and meticulously enameled by our skilled artisans
Los Angeles, CA (PRWEB) May 23, 2011
Sparkling Collectibles announces the addition of several Faberge Eggs, Perfume Boxes and Music Boxes to its wide array of collectibles. SparklingCollectibles.com can save you money.
Everyone should be able to enjoy crystal lavished collectibles. That's why Sparkling Collectibles works hard to keep them affordable. But don't think they skimp on quality: each piece in this collection is hand set with Swarovski Crystals and meticulously enameled by skilled artisans. Many are also detailed in 24 karat gold. These enchanting figurines open to reveal hidden storage compartments which are perfect for storing jewelry and other keepsakes.
SparklingCollectibles' splendid Perfume Bottles set with Swarovski Crystals have become fast favorites. Each bottle is dazzling, and each arrives with a funnel for easy transfer of your perfume into the glass inner bottle. Pewter filigree cases make these bottles all the more exceptional.
Whether you're a fan of miniature boxes measuring one inch, or the larger keepsake boxes which measure up to twelve inches, enchantment awaits. This line of stunning treasures offer a timeless appeal and each is issued in limited editions, so their value is sure to increase over time. Each piece arrives in a padded Presentation Box with a manufacturer's Certificate of Authenticity.
SparklingCollectibles.com maintains inventory in Los Angeles, California. Shipping is fast and easy. They also offer this collection through Amazon. These are bonded sellers who pride themselves on outstanding customer service. Call (310)498-9695 to speak with a knowledgeable Customer Service Representative. All items are provided with a 100% (no questions asked) Satisfaction Guarantee.
Over 500 styles of collectibles are offered, including figurines, jewelry boxes, musical boxes, Faberge eggs, picture frames, business card holders, jewelry and pins. Some of the top sellers are fairy, angel, wedding, flower, basket, Persian, Turkish, antique, vintage, camellia, rose, plumeria, grapevine, domed, hibiscus, Moroccan, French, dollhouse, doll, figurine, teapot, teacup, tea kettle, coffee cup, champagne bottle, clipper ship, lighthouse, carousel, seashell, mermaid, telephone, train, teddy bear, clown, rocking horse, peony, heart, purse, crown, carriage, piano, phonograph, high heel, shoe, violin, music chest, boot, clock, compact, mirror, flag, Easter, Christmas,Bible, Cross, Hannukkah, Hamsa, apple, strawberry, pineapple, golf, chili pepper, pumpkin, Halloween, Santa, snowman, stocking, sleigh and Holiday styles of collectibles.
Themes include dozens of exotic and domestic animals, including penguins, swans, parrots, chickens, eagles, peacocks, hummingbirds, blue birds, love birds, butterflies, owls, giraffes, bears, sheep, llama, rams, squirrels, dragons, alligators, crocodiles, pigs, frogs, horses, elephants, camels, cats, dogs, lions, jaguars, leopards, cheetahs, bunnies, ladybugs, toads, turtles, lizards, dolphins, fish, whales, dragonflies, crabs and more.
Free Shipping is standard to any location within the United States, or FPO/APO addresses.
###