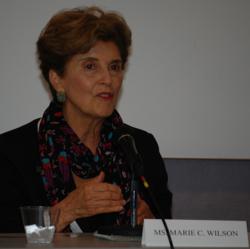 Cambridge, MA (PRWEB) May 20, 2011
On May 19, 2011, at the First Church in Cambridge, Congregational, Episcopal Divinity School conferred 22 degrees, including ten Masters of Divinity, three Masters of Arts in Theological Studies, two Doctors of Ministry, and seven Certificates of Theological Study.
Telling the graduates, "You are not in the religion 'business'—you are in the transformation business," Marie C. Wilson, founder and president emeritus of The White House Project, urged them to impart "passion, purpose and meaning" into their ministries in the church and in the world. "I am not here to speak to you. I am here to call you, because this is the 'fullness of time.' "
Wilson was one of three on whom EDS conferred the doctor of divinity, honoris causa, for distinguished and faithful ministries in social justice. The other two were the Rt. Rev. Mary Glasspool, bishop suffragan of the Episcopal Diocese of Los Angeles, and lay Episcopalian Edward Cyril Chase of Cambridge, Massachusetts.
(To watch Wilson's commencement address, visit http://www.eds.edu and click on Commencement.)
Marie C. Wilson was presented with her honorary doctoral degree by EDS' President and Dean, the Very Rev. Dr. Katherine Hancock Ragsdale. An advocate for women's issues for more than 30 years, Wilson is founder and president emeritus of The White House Project, co-creator of Take Our Daughters and Sons to Work Day, and author of Closing the Leadership Gap: Why Women Can and Must Help Run the World.
In 1998, while President of the Ms. Foundation for Women, Wilson founded The White House Project in recognition of the need to build a truly representative democracy—one where women lead alongside men in all spheres. She left the Ms. Foundation in 2004, after two decades, to devote her full energy to the White House Project.
In honor of her work, the Ms. Foundation created the Marie C. Wilson Leadership Fund, which will be under her sole advisement. She is also an honorary founding mother of the Ms. Foundation for Women.
The Rt. Rev. Mary Douglas Glasspool, bishop suffragan of the Diocese of Los Angeles and EDS alumna, was recognized as "bishop of the church and sister in the struggle… known for your firsts: most notably, [as the] first openly lesbian bishop of the Church" by Dr. Angela Bauer-Levesque, academic dean of EDS.
Bishop Glasspool received her BA in 1976 from Dickenson College, Carlisle, Pennsylvania, magna cum laude; she received an Honors in Music and the Hufstader Prize (Outstanding Senior Woman). In 1981, she completed her Master of Divinity at Episcopal Divinity School, Cambridge, Massachusetts. She was a Merrill Fellow at Harvard Divinity School in Fall 2006. Before being elected Bishop Suffragan of Los Angeles, she was Rector of St. Luke's and St. Margaret's Church in Boston (1984-1992), Rector of St. Margaret's Church in Annapolis, Maryland until 2001 and Canon to the Bishops, Diocese of Maryland.
"Consistent throughout your ministry have been your commitments to the virtues this school holds dear: justice, compassion, and reconciliation," said Dean Bauer-Levesque. "The church, the world, and EDS have been well served by your work. We are proud to welcome you, a distinguished alumna and steadfast friend, back today to be honored by your Alma Mater."
Edward Cyril ("Ed") Chase, "truly a man for all seasons and a living embodiment of the ministry of the baptized," received his honorary doctorate from the Rev. Canon Edward W. Rodman.
Chase is a long-time parishioner at Christ Church in Cambridge, Massachusetts. A founding member of the Union of Black Episcopalians, he has also served the Episcopal Church in local and national volunteer positions, including the board of the College of Preachers, Washington, DC. He was a charter member of the committee to establish the Absalom Jones Scholarship at the Episcopal Divinity School.
Along with his wife, Faith, Chase has been "the unofficial den father and mother to several generations of EDS students," said Rodman. "Those who know you recognize that you are a 'truth teller,' keeping the mighty humble and building up the oppressed; therefore you could only be known as 'the unofficial black mayor of Cambridge.' "
About Episcopal Divinity School
Episcopal Divinity School is a respected center of study and spiritual formation for lay and ordained leaders with a strong commitment to justice, compassion, and reconciliation. EDS, formed in 1974 with the merger of Philadelphia Divinity School (founded in 1857) and Episcopal Theological School (founded in 1867), offers doctor of ministry and master's degrees, as well as certificates in theological studies. Located on an eight acre campus just a few blocks from Harvard Yard, EDS is a member of the Boston Theological Institute, a consortium of nine eminent theological schools, seminaries, and departments of religion.
###