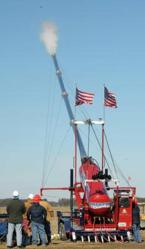 Know this: Some teams may temporarily out shoot us.....but they will never out work us. It's only a matter of time before that trophy is ours!
Nashua, NH (PRWEB) May 21, 2011
Very soon the 2011 harvest season will once again be upon us, and very soon it will be that special time of year once again. Time for some PUNKIN CHUNKIN! Every year since the mid-1980's the nation's most innovate and creative folks have converged on Bridgeville Delaware for the State's annual Punkin Chunkin Festival. Punkin Chunkin is a 3 day event where 110 teams compete to see who can launch a pumpkin the farthest.
Last year rookie air cannon team American Chunker placed fourth and missed the giant first place trophy by 220 ft. "Not too bad for a rookie team shooting late in the day with a direct 25 mph headwind" said the teams Captain Brian Labrie. The winds definitely increased as the day moved on and it appeared that he best chances for long distance shots were before 11 am on any given day. Even with all that said, Team American Chunker was still able to walk away with the best overall average on all 3 shots and the longest combined distance when all 3 shots were totaled.
This talented crew knows pumpkins and they know how to make them fly. The huge air cannon has a barrel that is well over one hundred feet long and has an air tank (ASME pressure vessel) that hold hundreds of gallons of compressed air. The group has plans on traveling up and down the eastern seaboard (mostly throughout New England and the Northeast) this fall exhibiting the newly upgraded state of the art air cannon. The new machine has multiple features never seen on any competition air cannon claims Brian Labrie the Team's Captain, Labrie says "This cannon is built for speed and comfort - it's definitely the Cadillac of all pumpkin cannons".
With the addition of both Mike Huges and Tom Sommer (both Principal Engineers at FLIR Systems, Inc) Team American Chunker believes that they now have what it will take to compete seriously at a championship level. "We have basically retrofitted the entire machine form tip to tail, adding technology at every turn" Labrie said. "We found that after only one year of competing, that most of the air cannons on the firing line were somewhat evenly matched, and basically if we wanted to create some distance between our cannon and the other guns we would need to make the technological leap forward. – so we did" Labrie went on to further state.
Unfortunately, the technological upgrades are classified and won't be revealed to the public anytime soon. However, it is evident that there is now a complex computer system in place and two brilliant engineers assisting at the helm. "This is a huge step in an upward direction for this young team, our goal for 2011 was to eliminate years of trial and error theories and "Game Day" methods that just don't work" Labrie said.
Team American Chunker will once again continue to support their charity of choice "The New England Basset Hound Rescue Group". If they do in fact win the Championship in Delaware this Fall, any and all funds would be donated to this group. "This organization is compiled of an absolutely amazing group of people dedicated to helping Basset Hounds in need" Labrie said. "Team American Chunker hopes to be able to bring home victory to New England and a good chunk of "change" for our floppy eared friends". Labrie further stated, Like the introduction of a new cell phone, this New England based Chunker team seems to be all the rage again this year.
Team American Chunker has also partnered with the Smuttynose Brewery Company as their main sponsor & are cautiously optimistic about victory this fall! The teams website, actually a frequently visited blog site - http://www.americanchunker.com is where hundreds interesting photos and articles can be found. Also noteworthy Team American Chunker might just be also be in your living room this Thanksgiving night at 8 pm courtesy of cable television – so stay tuned.
###