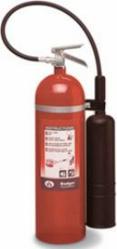 "Heat producing devices, such as stoves, ovens, toasters and related equipment can cause injury and damage if not used with caution and awareness".
Neptune, NJ (PRWEB) May 20, 2011
Kitchen fires are the leading cause of fires in the home and are responsible for 36% of home civilian injuries. All Hands Fire Equipment offers important tips to help reduce these preventable fires.
According to the National Fire Protection Association (NFPA), cooking equipment fires are the leading cause of home structure fires associated civilian injuries. These fires have accounted for 40% of all reported home structure fires and 36% of home civilian injuries. During the most recent survey period, these fires caused 460 civilian deaths, 4,850 civilian injuries and $724 million in property damage, as an annual average. These figures are believed to be on the rise in recent years even though the majority of these fires are preventable.
"Care should be used in the kitchen where hazardous equipment is used" said Donald Colarusso, President of All Hands Equipment, a firefighter equipment distributor and firefighter for over 24 years. "Heat producing devices, such as stoves, ovens, toasters and related equipment can cause injury and damage if not used with caution and awareness".
Here are some safety tips that all residents should know.
1. In the event of a kitchen fire, do not hesitate… call 9-1-1 immediately. People often delay because they feel that they can handle a small fire or they are embarrassed. Often delay results in extreme damage to your home and increase the risk of injury or death.
2. Make sure that smoke detectors and carbon monoxide detectors are in working order.
3. Do not leave pots or pans on a stove unattended. When you finish cooking make sure that all burners are turned off.
4. Use extreme caution when cooking with oil. If the oil catches fire, DO NOT use water to extinguish an oil fire. Throwing a container of water on an oil fire can spread the fire and cause severe burns. It is best to use a fire extinguisher, if one is not available, use baking soda.
5. Ensure that all wires and cords are maintained and in working order. Remove frayed cords or cords that have burn or melted sections. Do not use extension cords. Your kitchen should be equipped with GFI outlets (ground fault interrupters).
6. Keep dish towels, paper towels, napkins, pot holders and similar combustible materials away from heat producing devices. Also use great care while cooking with loose fitting clothes.
7. Handle knives very carefully. Exercise 'situational awareness'; when cutting be aware of your hand position; do not lay knives in a soapy sink; keep knives out of reach of children; if a knife falls, do not attempt to catch it.
8. Keep your kitchen clean and organized. A clean kitchen helps in so many ways, including being bug and rodent free.
As president of one of the nation's leading distributors of firefighter gear, Mr. Colarusso notes, "A residential kitchen is among the most popular places in any home. These tips should help make your kitchen a safer place for you and your family".
###