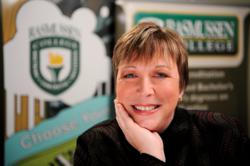 This partnership will allow its students to have a clear and straightforward pathway into a four-year degree, which will in turn give them more opportunity for growth in their careers
Minneapolis, Minn. (PRWEB) May 23, 2011
Rasmussen College and Southeast Technical College have partnered to offer expanded bachelor degree options to students through an articulation agreement for several degrees in nursing, business, criminal justice, and accounting.
Effective April 1, 2011, the articulation agreement allows Southeast Technical students to move seamlessly into the corresponding bachelor's degrees at Rasmussen College. According to the Bureau of Labor Statistics, the employment rate increased for people with bachelor's degrees as does their income.
"We are honored to work with Southeast Technical College, an institution that shares the Rasmussen College values of career-focused education," Rasmussen College President Kristi Waite said. "This partnership will allow its students to have a clear and straightforward pathway into a four-year degree, which will in turn give them more opportunity for growth in their careers."
Students who are enrolled and graduate from one of the aforementioned degree programs at Southeast Technical College will be able to enter the corresponding bachelor's degree program at Rasmussen College without having to take any extra credits. The student may choose to take his or her program online or at any of Rasmussen College's 21 campus locations.
Included in the articulation agreement is Southeast Technical's first articulation with an RN-BSN program. Rasmussen College launched the RN to BSN online program several months ago to give existing registered nurses the opportunity to earn a bachelor's degree online while continuing to work.
Southeast Technical Interim Vice President of Academic Affairs and Dean of Trade and Technology Ron Sellnau had this to say about the significance of the articulation agreement.
"Post-secondary articulation agreements are student-focused practices that facilitate seamless integration between two-year and four-year post-secondary institutions to provide for the efficient and effective progression and transfer of students within the post-secondary educational system, thus allowing students to proceed toward their educational objectives as rapidly as their personal circumstances permit, and at a reasonable cost to the student."
Rasmussen College is regionally accredited by the Higher Learning Commission, which also accredits colleges in the Minnesota State Colleges and Universities System. Rasmussen was the first private college in the state of Minnesota granted the ability to offer associate of applied science degrees, and it expanded its program portfolio to include baccalaureate degrees nearly five years ago.
Founded in 1949, Southeast Technical College is dedicated to providing education for employment, skill enhancement, and retraining. The primary focus is to anticipate and meet the educational and training needs of students and employers.
For additional information about Rasmussen College, visit http://www.Rasmussen.edu. For additional information about Southeast Technical College, visit http://www.southeastmn.edu.
To read this press release in its entirety or others like it, please visit http://www.rasmussen.edu/press-release/2011-05-19/rasmussen-and-se-technical-partner/.
ABOUT RASMUSSEN COLLEGE:
Founded in 1900, Rasmussen College is a premier provider of educational experiences, dedicated to the growth and development of its students, employees, and the communities it serves. Accredited by the Higher Learning Commission, Rasmussen College offers Bachelor's and Associate's degrees in fields with the greatest occupation opportunities to more than 15,000 students both online and through its network of 21 campuses. By partnering with leading universities, Rasmussen offers opportunities to students beyond the Bachelor's level. The Rasmussen Partner Network gives students the opportunity to earn Master's and Doctoral degrees completely online, at their own convenience, from prominent universities around the country. To learn more about Rasmussen College, please visit Rasmussen.edu.
# # #