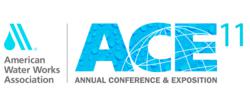 "Smart, informed leadership on water issues is more important than ever as the challenges to sustainable water systems and resources continue to grow."
Washington, DC (PRWEB) May 20, 2011
Water commissioners, mayors, city council members and other elected and appointed officials will discuss and debate water finance, management and sustainability during the American Water Works Association's Annual Conference and Exposition (ACE11), June 12-16 in Washington, D.C.
Public officials from throughout North America will participate in a specialized 12-hour certificate program, a four-hour Public Officials Breakfast and Caucus, and a peer networking reception, all at the Walter E. Washington Convention Center.
The specialized public officials programming is part of the larger ACE11, the longest running water conference in the world. Public officials can also choose from more than 500 technical presentations at the broader conference and see the latest technology solutions from more than 1000 exhibitors.
"Smart, informed leadership on water issues is more important than ever as the challenges to sustainable water systems and resources continue to grow," said AWWA Executive Director David LaFrance. "The public officials who make decisions impacting water have an enormous responsibility, and their participation at ACE11 shows that they take that responsibility seriously. Just as they are committed to staying informed, we are committed to helping keep them informed with the most relevant and current industry information."
Public Officials Breakfast and Caucus (8 -11:30 a.m., Tuesday, June 14, Room 202B, Convention Center)
George Hawkins, general manager of DC Water; Cynthia Dougherty, director of the U.S. Environmental Protection Agency's Office of Ground Water and Drinking Water, and Jim Hanlon, director of EPA's Office of Wastewater Management, will address public officials during the Public Officials Breakfast and Caucus. The event – free to public officials who are registered at ACE11 – also includes a presentation from AWWA Deputy Executive Director Tom Curtis on the proposed Water Infrastructure Finance and Innovation Authority (WIFIA). Contact Trish Allen at tallen at awwa dot org, 303-347-6141 to register. Event sponsors include Aclara, Brown and Caldwell, Insituform and Wachs Water Services.
Public Officials Certificate Program (1-5 p.m., June 12-14, Room 203AB, Convention Center)
For the third year, public officials registered at ACE11 will have an opportunity to earn the AWWA Public Officials' Certificate by participating in three 4-hour courses June 12, 13 and 14. Content for the June 14 course, "Financing Your Water and Sewer Utility in the Future," is entirely new, allowing those who have already earned the certificate an opportunity to further expand their knowledge. Courses 1 and 2, to be held June 12 and 13, are "Introduction to Water and Sewer Operating Environments" and "Water and Sewer Infrastructure, Operation and Maintenance." Renowned water educator Frederick Bloetscher, PhD, P.E., author of Water Basics for Decision Makers, will teach the courses.
Public Officials Reception (5-6 p.m. Monday, June 13, South Pre-Function, Level 3, Convention Center)
Public Officials will have an opportunity to discuss common concerns and share ideas in a relaxed setting during this networking event.
Registration Information: ACE11registration information is available at http://www.awwa.org/ace11
Those wishing to register for the Public Officials Reception or Breakfast Caucus should fill out special registration form and email it to Trish Allen at tallen at awwa dot org, fax it to 303-795-1440, or call 303.347.6141. You may also register at the AWWA Public Officials kiosk in the registration lobby at the Washington Convention Center. You must be a registered ACE11 attendee to participate in the public officials events.
Media Note: Accredited members of the media may attend ACE11 at no charge. However, they are required to register with AWWA Public Affairs. For media registration, please visit the Press Room at http://www.awwa.org under Public Affairs or contact Deirdre Mueller at dmueller at awwa dot org or 303-347-6140.
Established in 1881, AWWA is the oldest and largest nonprofit scientific and educational organization dedicated to safe water in North America. AWWA has more than 50,000 members worldwide, and its 4,000 utility members serve 80 percent of North America's population.
AWWA is the authoritative resource for knowledge, information, and advocacy to improve the quality and supply of water in North America and beyond. AWWA is the largest organization of water professionals in the world. AWWA advances public health, safety and welfare by uniting the efforts of the full spectrum of the entire water community. Through our collective strength we become better stewards of water for the greatest good of the people and the environment.
###