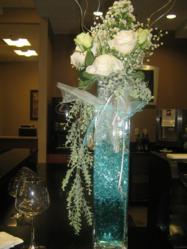 The adventure of not knowing the location nor the menu before arriving makes this event extraordinary!
Lexington, KY (PRWEB) May 21, 2011
They didn't know where they were going, nor what was on the menu. They only knew that Bleu Plate Confidential guarantees that they (those who purchased tickets to the event) will be seated to a delectable meal prepared by a local executive chef in an interesting atmosphere.
"The whole idea is to have a really nice dinner in an unconventional location," said Laura Mize, Owner of Bleu Plate Tours. "The first one was held inside a local brewery, and this last one which occurred May 14th was held inside the Lexus of Lexington dealership." Ticket holders, limited to 48 per event, receive an address two days prior to the event, but are not given a name nor any other clues. "The element of surprise adds to the excitement of the dinner," said Mize.
Erik Fowler, Executive Chef at Dudley's on Short, along with Bellini's Sous-Chef, Brian Surbaugh, prepared an extraordinary meal. In addition to hors d'oeuvres of ceviche atop beet chips and roasted baby garlic gazpacho, the four course meal consisted of:
First Course: Smoked Stone Cross pork jowl with baby red Russian kale, soft boiled egg
and a warm mustard vinaigrette. Wine pairing: "G" (Gewürztraminer)
Second Course: Spring vegetable salad and capriole goat cheese with aged sherry and
almond oil. Wine pairing: Vidal Blanc
Third Course: Slow roasted local lamb with local asparagus, oyster mushrooms, baby
potatoes and chimichurri. Wine pairing: 2008 Cynthiana
Fourth Course: Ale-8-One sorbet with citus and mango. Wine pairing: 2008 Riesling
All of the wine pairings were from Lovers Leap Winery in Lawrenceburg, Kentucky. Owners Pam and Logan Leet provided tasting discussions as diners were served each course.
"It is my hope to have one Bleu Plate Confidential event every three months," stated Mize. "The next one will be August 6th so I advise those who would like to attend to mark their calendars. Tickets will go fast and they're limited to 48 people."
###