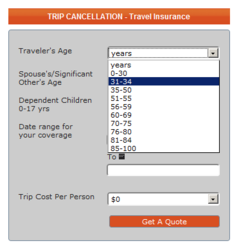 Phoenix, AZ (PRWEB) May 23, 2011
GoodNeighborInsurance.com, known as a excellent resource for international travelers asking questions such as "What kind of travel insurance do I need?" and "How can I stay healthy overseas?" has created apps allowing those going overseas to instantly get quotes from all the major international health insurance carriers.
"We frequently heard that our site had great articles on how to save money on travel, what types of insurance to buy, etc. but was complicated and hard to navigate," says Mark Sequeira, Marketing Co-ordinator for Good Neighbor Insurance. "So what we are announcing today is a completely redesigned website, simplifying it and making it more intuitive. We also created new features including an app for both Trip Cancellation Insurance and for Short-Term Travel Insurance where you can compare rates from the top-rated insurance companies in the industry and easily find out more, or purchase insurance quickly with just a few clicks. Developing a program that could help our customers sort through all the options and deductibles wasn't cheap or easy, but we're all about customer service and if we can make travel easier or offer better coverage at a better rate to more people, then we are happy to do it."
The new apps are available immediately at http://www.gninsurance.com and http://www.GoodNeighborInsurance.com
Often, those who travel internationally, for business, as volunteers or for tourism, buy travel insurance 'at the gate' while waiting to board a plane if they think about it at all. This is a mistake since you don't have the benefit of comparison shopping or specifying your exact needs. "Better insurance policies are out there for better prices if you plan in advance," Says Mark. Especially with online airline ticket purchasing versus using a travel agent, more travelers than ever before are forgetting to consider travel medical insurance and taking a big risk. U.S. health insurance coverage is just that, coverage for within the U.S., and sometimes only within a certain state or distance unless they are notified beforehand.
"Once you go overseas, all bets are off," says Doug Gulleson, a frequent traveler, avid scuba diver and Vice President of Good Neighbor Insurance. "Those going overseas need to be careful that they are not exposing themselves to risk and big medical bills.The U.S. State Department has warned people regarding medical risks overseas, encouraging those going to investigate their current health insurance coverage and consider travel insurance, which is pretty inexpensive. If you have to be evacuated or decide you'd rather have your appendix taken out in the states versus having a questionable surgery somewhere in Africa, you could be looking at a $6,000 bill"
The big question is 'what do you need?'
The difference between Trip Cancellation and Travel Insurance is that Trip Cancellation includes the same medical and accident benefits overseas, as well as covers any loss if your trip is delayed or you must cancel for any reason.
Good Neighbor also offers Trip Cancellation only, without any health insurance for those whose medical insurance covers them internationally.
"Whether short-term, long-term, frequent traveler, aid worker, international student, foreign student planning to study in the U.S.A., Good Neighbor can help protect you and those you love either individually, or as a group. Long-term storage property insurance, yearly multi-trip plans, kidnap and ransom, as well as liability insurance for international corporations and officers – We've got you covered." Says Jeff Gulleson, owner of Good Neighbor Insurance.
"When you call (866) 636-9100 you always talk to a real live person, who has lived overseas themselves, and shares your passion for travel," says Jeff. "We want them to help you get the exact protection you need, because too many people have thought they were protected and tragically find out they're not. Now, with the new website and instant insurance quote features, the difference is you can also comparison shop all the different companies instantly, before you buy - quickly and easily - just by visiting our site.
About Good Neighbor Insurance
Jeff Gulleson established Good Neighbor Insurance in 1997 to provide global health and life insurance services after working with an NGO for 30 years in Indonesia.
With knowledgeable staff that have lived and worked for extended periods overseas, GNI helps clients find good, cost-effective international health, travel, and life insurance while providing caring service based on integrity. The company serves students traveling overseas, short-term teams, aid organizations, foreign and domestic corporations, universities, and volunteers both from the U.S. and abroad.
###