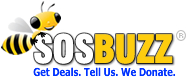 I don't believe God would let one individual boast and have the pride of saying 'I'm so good that I nailed the date, time, and circumstances of the end of the world.
Los Angeles, CA (PRWEB) May 21, 2011
Harold Camping of Family Radio has predicted that judgment day will begin on May 21, 2011. There are some staunch believers who wholeheartedly respect Mr. Camping's viewpoint, and are making last minute preparations for the end of days. Yet others are having Judgment Day parties mocking the entire "fuzzy math" prediction. The staff at Sosbuzz has a pool going where the winner will get $521.11 if they guess correctly as to what Harold Camping's excuse will be when the world stays perfectly intact and nothing happens.
"I don't know when judgment day will arrive," says Raffi Sosikian founder of Sosbuzz.com, who spent three years as a youth minister. "What I do know is that Jesus was quoted in the book of Matthew chapter 24 verse 36, as saying the day and the hour of judgment is not known to the angels in heaven, nor the Son. I respect all religions, and people's free will in not believing in any religion, if they so choose. I'm not here to judge. I believe what I believe, and people have a right to believe whatever they believe. In the end, we are all the children of God, who loved the world so much that He gave His only begotten Son. That type of love is an action. We too must take action to do good for one another, to honor each other. James 2:14 says it best, faith without deeds is dead. As refined human beings we need to help others when it is in our power to do so. Whatever you do, will come back to you. That is why I love what we're doing at Sosbuzz. We save people money on great deals, and we donate 25% of our proceeds to their cause when they simply tell us about their purchases. We have all sorts of places of worship, schools, and charities that are benefiting from Sosbuzz. Everyone wins in the Sosbuzz system."
Harold Camping feels the end of the world will begin this Saturday, May 21st, 2011 at around 6:00 p.m. with a huge earthquake. It is not entirely clear, which time zone Mr. Camping was referencing. So love birds getting ready for dates, party-goers and wedding guests, plan accordingly. End of times and doomsday scenarios have been discussed for thousands of years. All such predictions have been 100% wrong throughout all of recorded history.
"I don't believe God would let one individual boast and have the pride of saying 'I'm so good that I nailed the date, time, and circumstances of the end of the world.' That's how I feel about this whole issue. Here's my prediction," says Sosikian, "life will go on as normal. Over 400,000 Sosbuzz members will save money on our approximately 16,900 deals, their causes will get 25% donation of our proceeds, and one of my staff will get $521.11 to celebrate 5/21/11."
For more information on Sosbuzz.com, and to become a member for free, please visit http://www.sosbuzz.com.
About Sosbuzz:
Sosbuzz is a patent pending deals search engine for conscientious shoppers who want to save time and money as they shop for products and services. Sosbuzz members can find thousands of deals offered by Sosbuzz advertisers either by searching for them or via opt in email notifications. Sosbuzz is the first and only deals search engine to provide sellers the opportunity to advertise their products and services for free, and pay only after they confirm receiving a sale. This pay-after-confirmed-sale model renders the cost-per-click (CPC) advertising model used by search engines like Google, Yahoo and others obsolete, and allows Sosbuzz advertisers to charge less and offer better deals to Sosbuzz members. Sosbuzz donates 25% of the proceeds it collects from its advertisers, to the causes designated by Sosbuzz members when they report their purchases. Sosbuzz currently has over 950,000 causes listed in its database.
Press Contact:
press(at)sosbuzz(dot)com
###