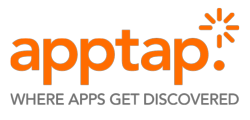 We're very excited to partner with AOL to bring app search and recommendations to TUAW's users
Washington, DC (PRWEB) May 23, 2011
AppTap (http://www.apptap.com), the leading app discovery and app advertising network for iPhone, iPad and Android apps, today launched a partnership with AOL's The Unofficial Apple Weblog (TUAW) to integrate its app search and contextual recommendation engine. Today's launch is part of a broader AOL agreement, enabling any AOL site to use the AppTap platform.
TUAW joins over 20 leading online media properties using AppTap's app discovery platform to deliver contextual app recommendations and app search, boost user engagement, and drive revenue. The partnership also adds a major new partner to AppTap's app advertising network (AppTap Ads), which helps app developers effectively promote their apps. Earlier today, AppTap officially opened AppTap Ads to all app developers.
"We're very excited to partner with AOL to bring great app search and recommendations to TUAW's users," said Matt Callaway, CEO of AppTap. "We're committed to helping consumers find and share great apps, and enabling app developers to reach those consumers. This partnership represents a major step forward in our mission, and a great win for consumers and app developers."
Readers of AOL's The Unofficial Apple Weblog (TUAW.com) will have access to AppTap's powerful app search engine, contextual app recommendations, and expert reviews. By connecting through Facebook, users will also be able see, share and rate apps with their friends.
AppTap Ads helps app developers reach a large and targeted audience of iPhone, iPad, and Android app consumers across a network of premium sites using AppTap's app discovery platform. AOL's TUAW.com joins other leading content sites partnered with AppTap, including Cult of Mac, DroidForums.net, TiPb.com, and AndroidTapp. AppTap also recently announced a partnership with Sprint, where AppTap will be powering an Android app discovery experience on Sprint.com.
AppTap is showcasing its app discovery and ad platform at TechCrunch Disrupt May 23-35 in the New Atlantic Ventures pavilion in Start-Up Alley.
About AppTap
AppTap (http://www.apptap.com) is the leading provider of app discovery and marketing solutions for online publishers, bloggers and app developers. AppTap's app discovery platform is a turnkey, white label solution, providing web publishers, bloggers and carriers a compelling content offering that boosts user engagement and revenue. Over 20 leading online media sites and Sprint have signed deals with AppTap to use its app discovery and search platform. AppTap Ads, which launched May 2011, enables app deveopers to market their apps to a targeted audience of app consumers across AppTap's partner network. AppTap is backed by Reston, VA based New Atlantic Ventures. For more information visit http://www.apptap.com.
About TechCrunch Disrupt
TechCrunch Disrupt NYC 2011(http://disrupt.techcrunch.com) is TechCrunch's second annual conference in New York City attracting over 1,500 leading technology innovators and investors and over 150 new startups. The format combines top thought-leader discussions with new product and company launches. Morning executive discussions debate the most timely disruptions in media, advertising and technology. Afternoons host the Startup Battlefield where 25 new companies will launch for the first time on stage, selected to present from more than 500 applications received from around the world. Another 100 early-stage startups will exhibit in Startup Alley. TechCrunch will award a $50,000 grand prize along with other award recognitions at the conclusion of the conference. The conference is May 23-25, 2011, at Pier 94 located at 711 12th Avenue (at 55th Street & West Side Hwy) in Midtown New York.
TechCrunch (http://www.techcrunch.com) is a leading technology media network dedicated to obsessively profiling and reviewing new Internet products and companies. Founded by Michael Arrington in 2005, TechCrunch and its network of websites reach over 13 million unique visitors and more than 30 million page views per month. TechCrunch was acquired by AOL in 2011 and operates a global network of websites including dedicated properties in Europe and Japan, as well as specialized industry websites including MobileCrunch, CrunchGear, GreenTech, TechCrunchIT, and CrunchBase. TechCrunch's CrunchBase is the leading open database about startup companies, people, and investors. In addition to TechCrunch Disrupt, TechCrunch hosts other conferences and events, including the Crunchies Awards (http://crunchies2010.techcrunch.com) and various meet-ups worldwide, serving as community platforms for industry conversation and collaboration.
###