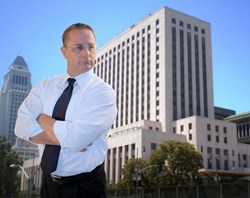 Michael Ehline, knows this area of the I-5, and he stated it is not uncommon for cars to stop quickly, and without warning.
Commerce, CA (PRWEB) May 20, 2011
Four buses collided Thursday afternoon in a chain reaction crash according to the California Highway Patrol website. The chain collision bus crash is also reported at paloverdevalleybus.com. Authorities believe the I-5 chain reaction collision was caused by a car that slowed in front of the first bus. Bus accident attorney, Michael Ehline, knows this area of the I-5, and he stated it is not uncommon for cars to stop quickly, and without warning.
Sure enough, California Highway Patrol Officer Ming Hsu stated that the bus that was allegedly cut off by a car slamming on its brakes in front of a county jail bus carrying 25 inmates and the other three buses were carrying Army personnel. The Los Angeles County Sheriff's bus and the three buses carrying the Army personnel collided south of Washington Boulevard at 11:50 a.m.
Los Angeles County Fire Inspector Matt Levesque stated that prior to noon the northbound lanes were closed for over 30 minutes on Interstate 5 in Commerce after the buses rear ended the bus in front of them.
According to Levesque, one soldier was transported to the hospital in critical condition. There were six of the military personnel injured and two inmates in the chain reaction bus crash. Authorities stated that the injuries appeared to be minor in most of the victims. Levesque stated that another Sheriff's Department bus was sent to the scene of the crash to transport the inmates.
Bus accident attorney, Michael Ehline, a former Marine, has represented bus accident victims for many years and understands that minor injuries can become more serious after the initial bus crash. In cases like this, where there is an allegation that a car cut a bus off, Ehline says, "There may not be enough insurance to cover all the injuries and property damage. But, the real question should be, 'Did the Sherriff's bus maintain an adequate following distance?'"
"If you suffered an injury, such as a brain injury, burn injury, or lost a loved one due to a wrongful death, you need to make sure and hire an attorney, who can employ legal experts to flesh out these types of issues, where on its face, there may appear to be insufficient insurance coverage, when in fact, there is more likely than not, a government claim against bus number one for following too closely," Ehline says.
Ehline Law Firm PC is ready to assist any and all injured consumers with a free phone consultation if you want some help.
633 West 5th Street #2890
Los Angeles, CA 90071
213.596.9642
Retain the best personal injury lawyers for your tragic bus crash.
###