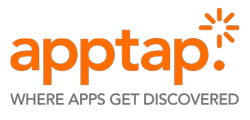 We launched AppTap Ads to help app developers rise above the noise of the cluttered app stores
Washington, DC (PRWEB) May 23, 2011
AppTap (http://www.apptap.com), the leading app discovery platform for iPhone, iPad and Android apps, today launched AppTap Ads, a self-serve ad network giving app developers an easy and effective way to promote their apps to millions of app consumers across a growing network of leading websites using AppTap's app discovery platform. The company today also launched its app recommendations platform on AOL's The Unofficial Apple Weblog, part of a broader deal with AOL enabling any AOL site to use AppTap's platform.
"We launched AppTap Ads to help app developers struggling to rise above the noise of the cluttered app stores," said Matt Callaway, CEO of AppTap. "AppTap's mission is to help apps get discovered. Our app discovery platform helps consumers and web publishers find relevant apps; and now, with AppTap Ads, we're leveraging the reach of our app discovery platform to help app developers get their apps noticed."
AppTap Ads helps app developers by promoting their apps to consumers across a growing network of over 20 leading content sites using AppTap's app discovery platform, including AOL's The Unofficial Apple Weblog (TUAW), Cult of Mac, The iPhone Blog (TiPb), AndroidTapp, and DroidForums.net. The company also recently announced a partnership with Sprint to power Android app discovery on Sprint.com. AppTap Ads provides app developers with an easy-to-use, self-serve ad buying and campaign reporting tool to buy and track targeted app promotions across the web.
"AppTap Ads is an effective way to promote the It Happened Here app to a targeted audience of app consumers across a network of top mobile and tech sites," said Ken Dodelin, Founder and CEO of Mobile Surroundings. "Developing a great app is half the battle these days. You've also got to market your apps, and AppTap Ads is a dead simple way to get your app in front of iPhone and Android users across the web."
"We're excited to use the AppTap Ads platform to bring the Nexercise app to a broad audience of app consumers across the web," said Ben Young, CEO and Co-Founder of Nexercise, Inc. "An advertising network dedicated to promoting apps across the web is exactly what app developers need as the app stores become more crowded."
AppTap will be demoing their app discovery and ad platform at TechCrunch Disrupt in NYC May 23-25 in the New Atlantic Ventures portfolio pavilion in Start-Up Alley.
AppTap (http://www.apptap.com) is the leading provider of app discovery and marketing solutions for online publishers, bloggers and app developers. AppTap's app discovery platform is a turnkey, white label solution, providing web publishers, bloggers and carriers a compelling content offering that boosts user engagement and revenue. Over 20 leading online media sites and Sprint have signed deals with AppTap to use its app discovery and search platform. AppTap Ads, which launched May 2011, enables app developers to market their apps to a targeted audience of app consumers across AppTap's partner network. AppTap is backed by Reston, VA, based New Atlantic Ventures. For more information visit http://www.apptap.com.
About TechCrunch Disrupt
TechCrunch Disrupt NYC 2011(http://disrupt.techcrunch.com) is TechCrunch's second annual conference in New York City attracting over 1,500 leading technology innovators and investors and over 150 new startups. The format combines top thought-leader discussions with new product and company launches. Morning executive discussions debate the most timely disruptions in media, advertising and technology. Afternoons host the Startup Battlefield where 25 new companies will launch for the first time on stage, selected to present from more than 500 applications received from around the world. Another 100 early-stage startups will exhibit in Startup Alley. TechCrunch will award a $50,000 grand prize along with other award recognitions at the conclusion of the conference. The conference is May 23-25, 2011, at Pier 94 located at 711 12th Avenue (at 55th Street & West Side Hwy) in Midtown New York.
TechCrunch (http://www.techcrunch.com) is a leading technology media network dedicated to obsessively profiling and reviewing new Internet products and companies. Founded by Michael Arrington in 2005, TechCrunch and its network of websites reach over 13 million unique visitors and more than 30 million page views per month. TechCrunch was acquired by AOL in 2011 and operates a global network of websites including dedicated properties in Europe and Japan, as well as specialized industry websites including MobileCrunch, CrunchGear, GreenTech, TechCrunchIT, and CrunchBase. TechCrunch's CrunchBase is the leading open database about startup companies, people, and investors. In addition to TechCrunch Disrupt, TechCrunch hosts other conferences and events, including the Crunchies Awards (http://crunchies2010.techcrunch.com) and various meet-ups worldwide, serving as community platforms for industry conversation and collaboration.
###