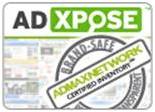 (PRWEB) May 23, 2011
Admax Network, Asia's leading online ad network, is leading the way to ensuring brand-safety and transparency in the region by adopting the AdXpose technology. A world leading digital advertising solutions provider, AdXpose ensures transparency and confidence in the quality and brand-safety of Admax's campaigns. This partnership seals Admax's commitment to provide enhanced security, compliance, and accountability for their advertisers.
AdXpose's cutting-edge ad verification technology works in tandem with Admax's strict manual evaluation system. Admax's media specialists scrutinize every single website and webpage before allowing it to be a part of the network. Every ad placement is manually and technologically assessed against publishers' criteria for site quality, content relevance, and location appropriateness, before it can be labeled Admax Certified Inventory.
Admax is also providing 24/7 brand protection for advertisers' campaigns using AdXpose. This technology examines and analyzes all pages real-time to ensure advertisers' ads are run only on appropriate content and environments. In addition, Admax's "keyword selection" tool enables advertisers to opt out of content with their pre-defined keywords.
Admax CEO Mathew Ward says, "Brand-safety and transparency is one of our top priorities and third party ad verification technology plays a critical role in building trust between ad networks and its clients. It is important to provide advertisers with the confidence to work with an ad network where their inventory is certified as brand-safe and relevant."
"We are thrilled to partner with one of Asia's cutting edge ad network that is positioned to attract major brands into a rapidly growing market. Our brand safety and verification solution will position Admax as one of the early transparency adopters in this market which will accelerate major advertisers allocating off line spend to digital brand awareness," says Ryan Polley, COO of AdXpose.
Please visit Admax Network website for more information.
# # #