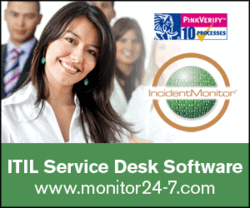 The new interfaces were designed directly from customer input.
(PRWEB) May 22, 2011
After months of consultative planning with customers, Monitor 24-7 Inc., the creators of the award winning IncidentMonitor service desk software solution, are proud to announce the launch of IncidentMonitor version 9.2, featuring the same famous flexibility and functionality, but with new user interfaces and other user-identified features.
Monitor 24-7's Marketing and Sales Director Riaz Mohammed says: "The new interfaces were designed directly from customer input. We received input from a wide cross-section of current and potential customers including general usability issues to "cool" features that will greatly simplify user interactions." Monitor 24-7 Inc. has been a leading provider of service desk software products since 1999. Sold in 20 countries worldwide, and headquartered in Toronto, Canada, with branch offices in Europe, Monitor 24-7's service desk software solution, IncidentMonitor, delivers state of the art business processes and intelligent workflow capabilities and is PinkVERIFY™ certified for 10 ITIL V3 processes.
IncidentMonitor has been chosen by customer-centric companies worldwide for its functionality, flexibility and price. The company also welcomes suggestions on how to make its product even better – which, in large part, guided the launch of the new release, notes Mohammed, "one of the biggest concerns was around request submission. The feedback we received showed that most vendors have not done a good job at simplifying the request submission interface. We listened to the feedback and provided a new request interface that provides a very simple yet powerful contact search, and built-in intelligence to automatically present possible resolutions from Knowledgebase (KB) articles and existing requests. Service Level Agreements and service policies are automatically linked and visible, and the customer has easy access to view all service policy details."
In addition, IncidentMonitor's technician view has been improved in the area of searches and sorting to quickly access requests. Request updates, assignment, resolution and approvals are all accessible by a single-click without losing advanced task-based updates. A configurable dashboard presents information required (such as team requests, category trends, project summary and My Open Requests) when the technician logs in. Performance improvements have also been implemented in the web interface, which now operates more like a Windows application. Multiple forms can be minimized and easily accessed within one browser window.
Features for End Users:

Single-click functionality allows screen captures, files copied to the clipboard and attachments to be easily linked to a new or existing request
Advanced web navigation features, which provide the flexibility of a Windows interface within the browser
Integrated chat that is accessed via predefined service items
Features for Technicians:

Wizard to allow tickets to be quickly and easily submitted with little or no agent training
Built-in intelligence to display KB articles and existing tickets that can resolve new issues
Automatic linking of service policies based on request information and easy access to linked service policy details
Robust grouping and sort capabilities to view and quickly access requests
Intuitive, single-click functionality to update, assign, approve and close requests
Advanced web navigation features, which provide the flexibility of a Windows interface within the browser
Automated solutions are presented to you immediately without the need to navigate to another window
Matching tickets come up as soon as you record the description of the issue
Work straight from a dashboard which will give you all the information you need. No need to search through multiple menus!
Personalization to define the way you want to work
Still includes "Today's View", but also includes insight into what you need to do tomorrow and into the future. One click to see your Future Requests
The ability to keep an eye on the progress of tickets, via your Personal Watch List
Unique drag and drop overviews can be set up the way you want to work! Do you want to have an overview on your future requests? Want to keep an eye on your requests with a Watch List?
Integrated chat. Technicians can assign a chat session to another technician, or conference in another technician to an existing chat session. All chat communication is automatically added to ticket at the end of the session.
Are you interested in learning more? Please call Monitor 24-7 Inc. for a demonstration. The team at Monitor 24-7 is so assured that you will be impressed with the new features of IncidentMonitor, which support its reputation for being the most flexible, functional and cost effective service desk software solution on the market that when you buy it, the company offers a 60-day money back guarantee.
To view a demo of IncidentMonitor v9, visit us at
http://servicedesk.monitor24-7.com/servicedesksoftware_demonstration/,
email sales(at)monitor24-7(dot)com or call at +1 866 364 2757 (North America) or +31 88 008 4601 (Europe).
About Monitor 24-7 Inc.
Monitor 24-7 Inc is a privately-held software company with a distinct customer-centred approach to product development. Since entering the software industry in 1999, the company maintains its commitment to offer the best product at the best price to the service desk industry. Monitor 24-7's innovative approach to software design and development coupled with its commitment to providing superior customer service allows it to meet and exceed the ever-changing needs of the service industry.
Monitor 24-7 has experienced 60 percent growth in year-over-year sales over the past six years, and seeks to change the long-held tenet that "an enterprise solution must be expensive", by providing everything your service desk needs, at a price you can afford. For more information or to sign up for a web demo, please visit http://servicedesk.monitor24-7.com/servicedesksoftware_demonstration/ or contact sales(at)monitor24-7(dot)com. For media inquiries, please contact public.relations(at)monitor24-7(dot)com
###