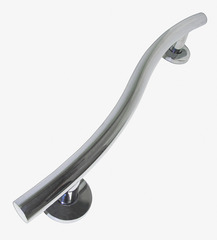 "Grab bars don't have to be an eye sore in a stylish bathroom," states Nikki Fournier, Marketing and Merchandising Coordinator of Grab-Bar.com "They can blend in organically if you are able to find the style that matches your bathroom decor."
Boston, MA (PRWEB) May 23, 2011
Grab-Bar.com, a manufacturer of stainless steel grab bars, is launching a family of modern and elegant grab bars. The site, which offers bathroom safety products that comply with government regulations and are designed to enhance independent living for the aging and disabled, enhanced their offering to include three new designs to accent even the most modern bathroom.
The bathroom is a space where many household accidents can occur; the simple installation of a grab bar can prevent a slip and fall. These 3 unique styles of designer grab rails are made with the most modern style bathroom in mind. The Architectural Angle bar features a prominent angle where the bar connects to the wall mount, for a strong style statement. The Infinity Mount grab bar is designed to appear as though it isn't mounted at all, but floating on the wall. The final new luxury style is the Wave bar, with a curved design, perfect for a vertical shower stall installation. All three designs are available in a variety of lengths and both the brushed and chrome plated finishes.
"Grab bars don't have to be an eye sore in a stylish bathroom," states Nikki Fournier, marketing and merchandising coordinator of Grab-Bar.com "They can blend in organically if you are able to find the style that matches your bathroom decor."
Grab-bar.com features installation videos, helpful hints, instructions and diagrams to assist the do it yourselfer or experienced professional. Along with over 80 different configurations of bathroom grab rails, a section of bath safety items, such as toilet rails, are available to complete your safety upgrade. As an added value standard shipping on orders over $99 is always free from Grab-Bar.com.
For more information on the Elegant Design grab bars, please visit http://www.grab-bar.com/pg/elegant-design-grab-bars
# # #