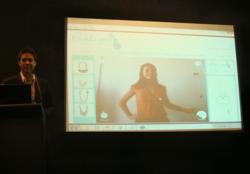 Boutique Accessories is proud to be leading the way for our customers in the Australian market.
Sydney, Australia (PRWEB) May 20, 2011
http://www.BoutiqueAccessories.com.au has today been showcased in front of thousands of Australian marketers and consumers at the Shopper Marketing Conference & Expo in Sydney. In two separate presentations, the Boutique Accessories Virtual Mirror was featured as an example of forward thinking in retail.
The Virtual Mirror is an augmented reality application created by specialists in the field, Explore Engage who also showcased a video of the Virtual Mirror in action at their stand over the two day conference expo.
The Virtual Mirror is leading in the market and is the first in the Southern Hemisphere. There are currently only a handful of similar applications in the world and Explore Engage have created a cutting edge application using ground breaking methodology.
Fashion Accessories featured within the Virtual Mirror include Necklaces, Bracelets and Earrings allowing customers to "try on" the jewellery in real time using their webcam.
The founder of the website commented "Boutique Accessories is proud to be leading the way in the Australian market."
The website aims to support Australian fashion designers and help to shape the future of online retail by improving the customer experience. "We launched the Virtual Mirror to bring the online shopping experience closer to a high street shopping experience for customers in Australia and around the world'' said the website's owner.
The website is loved by designers and customer alike because it provides both with a new form of interaction never experienced before online.
BoutiqueAccessories.com.au is an online boutique selling Australian Designer Fashion Accessories including Earrings, Necklaces, Bracelets, Handbags and Purses. Our mission is to recreate a high-end Boutique experience online by over delivering on customer's expectations and providing cutting edge technology to constantly improve the online experience. Our customers know that when shopping with us, they have access to the most recent trends in fashion accessories.
# # #