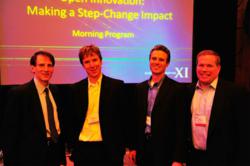 "We're proud to connect ZetrOZ with our global customers." -- Phil Stern, yet2.com
Needham, MA (PRWEB) May 20, 2011
yet2.com, a technology scouting and intellectual property services firm, in partnership with NASA Tech Briefs, Clean 15, RadTech, Steinbeis Center for Technology Transfer India, and yet2ventures, announces that ZetrOZ is the Top Finalist in its inaugural Step2Change Technology Competition.
"Among the submissions we received from around the globe, ZetrOZ's Mobile Ultrasound Therapy technology stood out with an excellent value proposition addressing the very large global pain therapy market ," said Philip Stern, yet2.com Chief Executive Officer. "We are proud to connect ZetrOZ with our global customers to help bring their technology to market, successfully."
ZetrOZ, of Ithaca, NY, was selected as Top Finalist from among four competition Finalists. Other Finalists included Advanced Brain Monitoring, of Carlsbad, CA, for their SmartNap sleep aid; XG Sciences of Lansing, MI for their xGnP Graphene Nanoplatelets technology; and Evgentech, of Atlanta, GA, for their Fast Charging Batteries technology.
All four finalists received presentation slots at yet2.com's annual Open Innovation Executive Briefing conference in May. With nearly 100 open innovation executives and corporate technology scouts in attendance, presenting at yet2.com's Executive Briefing XI is extremely valuable market exposure for small companies seeking commercialization partners. All finalists will also receive marketing promotion in yet2.com's regular email and web communications. As the Step2Change Top Finalist, ZetrOZ will benefit additionally from four months of expert product commercialization and partner development services from yet2.com, who will engage the firm in direct discussions with target companies to help ZetrOZ take its product to market around the world.
"We couldn't be more pleased to receive yet2.com's Top Finalist recognition, as well as to receive their commercialization services," said Bryant Guffey, CEO of ZetrOZ. "It feels great to have our technology and market strategy validated this way, especially relative to such innovative ideas from other finalists. We anticipate a strong business boost and significant acceleration for our partnering efforts as we benefit from yet2.com's valuable commercialization expertise and business connections."
About ZetrOZ
ZetrOZ™ is revolutionizing the ultrasound industry by introducing proprietary generator technology that is more efficient, more portable, and more economically viable than any ultrasound generator presently available. ZetrOZ's first product is the world's smallest ultrasound pain therapy device. This device (currently in clinical trials) addresses the demand for non-pharmaceutical alternatives to current pain treatments in the approximately $50 billion global pain management market. For more information, visit http://www.zetroz.com.
About yet2.com
yet2.com provides intellectual property consulting and licensing services to world-class clients around the globe. yet2.com Inc. and its online marketplace were founded in 1999 to promote Open Innovation, with original investments from Siemens, Bayer, Honeywell, DuPont, Procter & Gamble, Caterpillar, and NTT Leasing. The privately held company has offices in the United States, Europe, and Japan. The web site now has over 120,000 registered marketplace users including many of the Fortune 500 and over 16,000 smaller technology companies. In addition to its core team, yet2.com has created a wide network of Open Innovation partners covering many of the technology-rich countries around the world as well as relationships with open innovation organizations, technical expert networks, SME networks, technical magazines, online technical communities, and technology brokers. These provide market-wide access to technologies and needs in countries such as Russia, China, India, Korea, Brazil, South Africa, Japan, the US, and the EU. For more information, visit http://www.yet2.com or contact Tim Bernstein 1-781-972-0600.
About Clean 15
Clean 15 is the market facing brand of Drayton Weissenfels Inc., a company that connects innovation, ideas and intellectual property to industry by leveraging open innovation, a process that enables companies to have wider distribution of research and development initiatives by accessing global expertise through, joint ventures licensing, purchasing intellectual properties and processes. The exclusive Canadian partner of yet2.com, one of the largest technology transfer marketplaces in the world, Clean 15 helps companies generate revenue streams from underutilized intellectual property. Clean 15 is based in Toronto, Canada. For more information visit http://www.clean15.com .
About NASA Tech Briefs
NASA Tech Briefs is a unique, powerful tool for engineers, managers, and scientists -- the largest circulation design engineering magazine, with a qualified circulation of 190,000. For more than three decades, NASA Tech Briefs has reported to industry any new, commercially-significant technologies developed by NASA, so that engineers, managers, and scientists can use these developments to improve their competitiveness and productivity. For more information, please see http://www.techbriefs.com/ .
About Radtech
RadTech is The Association of UV (ultraviolet) and EB (electron beam) Technologies. UV and EB are high value, rapid throughput processes offering the virtual elimination of emissions and lower energy consumption compared with traditional methods—providing manufacturers with a safe, fast and efficient pollution prevention technology. As a result, the industry continues to grow at over twice the rate of traditional processes. Please visit http://www.radtech.org for more information.
About Steinbeis Center for Technology Transfer in India
Steinbeis India provides turnkey solutions to companies in the field of Technology Application. New and existing organizations avail their services to keep pace with the latest technologies and technology developments, to innovate their processes and products. Steinbeis' services include technology scouting, evaluation, marketing, consulting and training. The Steinbeis network comprises more than 4,000 professionals and over 800 Transfer Centres in Germany and many countries across the globe, covering all fields of technology and management. Please visit http://www.steinbeisindia.com & http://www.stw.de for more information.
About yet2ventures
In 2009, yet2.com opened an early-stage venture program to invest in companies with strong intellectual property and commercialize-able technologies. The investors have special interest in "clean" or "green" technologies, materials and physical sciences, life sciences, and consumer products. The unique information yet2.com obtains through its global marketplace provides a way to identify hundreds of promising investment opportunities, so yet2.com can be instrumental in validating market interest and in assembling the investors to take advantage of that interest.
The typical yet2.com investment is in a small company with robust intellectual property or in a corporate spinout. yet2.com focuses on sectors where its global marketplace has strong deal flow and actively seeks business plans based on technology rather than on financial or retail businesses. http://www.yet2ventures.com
###