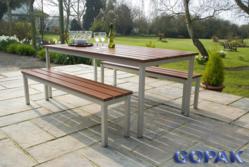 (PRWEB) May 24, 2011
Keeping your garden furniture looking as good as the day you first bought it is now a reality with a new range of stylish tables and benches that will never need more than a quick wipe down to look as good as new.
In what is being hailed as an all British success story, family owned business Gopak has designed a new range of lightweight and versatile garden furniture that will always maintain their distinctive good looks, whatever the weather.
Its new range of Enviro tables and benches featuring an attractive mahogany wood effect top built around a lightweight aluminium frame, are totally maintenance free, rot proof and will never need more than the occasional clean.
It means that the Enviro range, which is available with matching bench seating, can be permanently left outdoors, but for discerning homeowners who prefer to tidy up for the winter, supporting legs can be easily and quickly unscrewed for easy storage.
This furniture comes with great environmental credentials with the top made from 100% recycled materials and then when it eventually comes to the end of its very long useful life all components are 100% recyclable.
It all adds up to good news for Gopak which has been making versatile tables and seating for the great outdoors - as well as indoors - for more than 60 years, growing and prospering in spite of cheap foreign imports and increased competition from the Far East.
Find out more by visiting http://www.gopak.co.uk
###