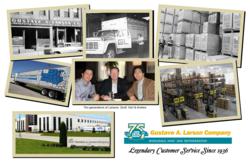 We don't sell anything - our customers do.
National (PRWEB) May 23, 2011
July 11, 2011 marks the 75th anniversary of the Gustave A. Larson Company. Gustave A. Larson Company is the Midwest, Plains and Mountain States leading wholesale distributor of Heating, Ventilation, Air Conditioning, and Refrigeration (HVACR) equipment, parts, & supplies. Founded by Gus Larson in 1936, the company has been family owned and operated for 75 years and is presently under the leadership of Andrew Larson, CEO, and Scott Larson, President, Gus' grandsons.
Larson began as a small storefront in Madison, Wisconsin, with just two employees. Seventy-Five years later, it has 47 locations covering eighteen states with almost 400 employees. Each branch carries an extensive inventory of equipment and replacement parts to serve customer's needs. The Larson Company, a leader in customer service, maintains a $55 million inventory and an in-house truck fleet that replenishes the branches nightly. Their B2B site, e-fficiency, provides customers with valuable access to products and account information 24 hours a day.
In the April 24th, 1940, issue of Air Conditioning and Refrigeration News, the success of the Larson Company was attributed to members of an organization who were "committed to technical competence, responsive to customer's needs, friendly, willing to work hard, active in the industry and active in the community." Today, that same formula for success still holds true. Larson employees are the most professional and service-oriented in the industry. The sales team is focused on helping customers with technical questions as well as growing their bottom line. Each person on the sales team has a Heating, Ventilation, Air Conditioning and Refrigeration (HVAC/R) technical college degree or equivalent industry experience. As technology in HVAC/R evolves the Larson Company ensures employee education with the Larson Learning Center, a 24 hour online learning tool. Educational programs are also made available at every branch to help their customers stay on the cutting edge of product technology and business acumen.
"We don't sell anything – our customers do. As a result, our focus is on helping them maximize their success," says Andrew Larson, CEO. This philosophy will provide the foundation for success for the next 75 years.
###